Anyone who has hit a certain age and stepped into wedding season knows the pain that comes with attending multiple weddings in a short space of time.
Yes, there's the priceless joy of sharing in someone's special day – but there's also the very real cost of travel, accommodation and presents, not to mention a new outfit.
Because you always need a new outfit for every wedding, right?
That's what one woman discovered when she was invited to four weddings in a short space of time and made the grave mistake of wearing the same dress to three of them.
From a three million dollar wedding that ended in court, to an el cheapo one that was organised in five days, Mamamia Out Loud talk the extreme costs of weddings. (Post continues after audio.)
The woman shared her experience on UK forum Mumsnet, asking if she'd committed some unknown faux pas with her sensible cost-saving fashion choice.
"I wore the same outfit to three of these weddings. Two of these same-outfit weddings were the same crowd of people – family," username GameOldBirdz said.
She thought nothing of her decision to wear the same dress with different bags and jewellery to each event, until her cousin sent her a message.
"My cousin, who was at both family same-outfit weddings, sent me a load of photographs yesterday and said in the email 'It's a shame you couldn't be bothered to wear something different."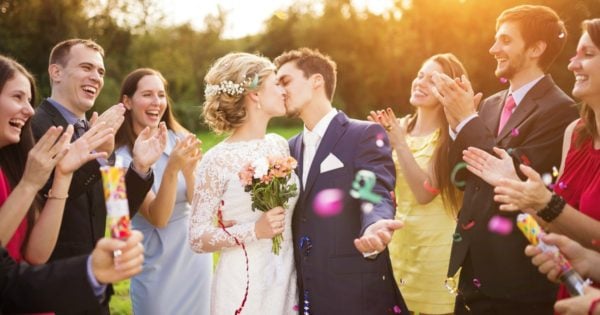 Assuming the message was a joke, the woman replied, "I'm sorry if I offended you recycling my outfit, I'm cheap" with a winky face.
She discovered, however, that it was not a joke at all.