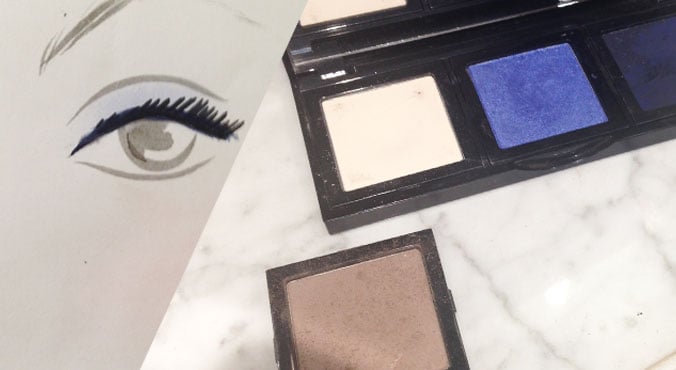 Image: the Bobbi Brown products used.
It may be symptomatic of my '90s coming of age, but blue eyeshadow will always have a special place my heart.
And one of the worst things about getting older is being told that certain trends aren't for you. You know those silly concocted rules like, 'Women over 30 shouldn't wear glitter' or coloured eyeshadow or bikinis.
RELATED: What to do with the silver in your eyeshadow palette
I say pfffft to that. You can wear shimmer, glitter and coloured eyeshadows (and a damn bikini) if you want. You just have to know how to do it.
I sat down with Bobbi Brown's Lead Makeup Artist, Alphie Sadsad, and well, basically made him show me how I can wear coloured eyeshadow well into my 30s. Now that I know the trick, just try to stop me at blue.
Step one: Apply an all over base colour, like a long wear shadow in cream or ivory.
Step two: Blend a soft grey or brown eyeshadow into your crease.
Step three: taking a smaller shadow brush, dip it into a coloured eyeshadow of your choice, mine was Bobbi Brown's Metallic Eyeshadow in Aegean Blue. And here's where the trick comes in: only apply it to the bottom half of your lower lid (see below).
In keeping the main deposit of colour to the lower lid is what gives you a pop of colour, when your eyes are open, but without the drag queen look. This will work with any eyeshadow colour.
RELATED: One of these palettes sells every 5 seconds around the world. Now you can buy it in Australia.
 Step four: line your eyes and apply mascara. To achieve more of a blue effect, Alphie chose to line my lashes in a navy liner (Rich Navy Shadow Liner) rather than black or brown.