Kim Kardashian dropped three new perfumes earlier this month and before a single soul had sniffed them, she made a reported $10 million USD ($13 million AUD) of sales in a single day.
The demand was so high, she sold out of the whole lot – 300,000 bottles – in six days, earning around $14 million USD ($18 million AUD) in the process.
Among those suckers parting with their hard earned money for the buzz scent of the year… was me. I jumped on the KKW Fragrance website and ordered the Crystal Gardenia and Citrus Gardenia, in the 30ml bottles, at $35 USD ($46 AUD) each. They arrived from the USA in five days flat in a MASSIVE mailing box.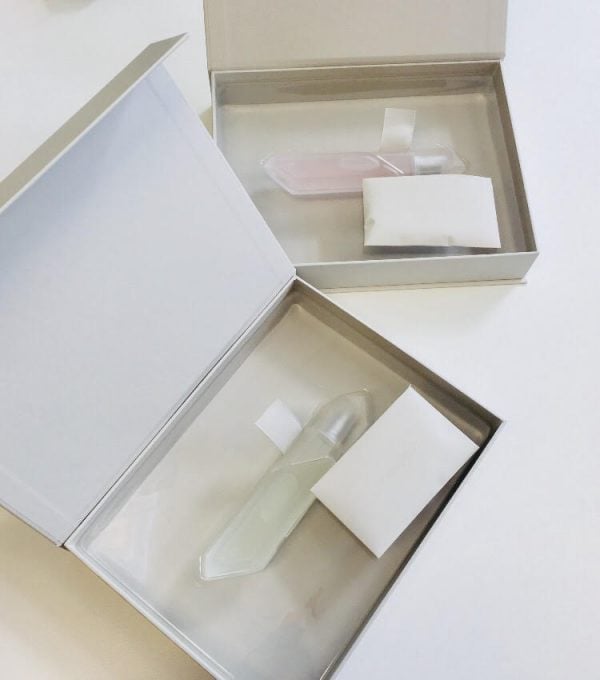 That's because the packaging is elaborate. The perfumes, which are made to resemble large quartz crystals, come in big presentation boxes adorned inside with a little beige ribbon.
As for the bottles themselves, they're matte glass, heavy in the hand, and quite gorgeous objects on their own. They make lovely ornaments to stick on your dressing table.
Also contained in the box are little envelopes with three semi-precious crystals each inside, and a card explaining how the stones aid in health and healing. So far, so good - the packaging was freakin' ADORABLE and kinda... fancy.
I brought the perfumes, boxes and all, to work, and asked my colleagues to pitch in with their opinions.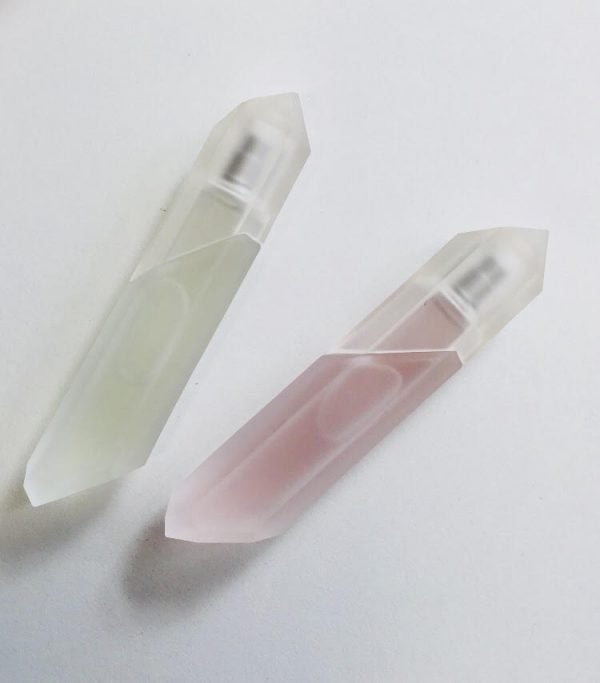 Keryn eyed the phallic looking bottle and was not impressed. "It kind of looks like a dildo" she quipped. Well, she's not wrong.
Jess noted it's similarity to Burberry Body - they're both jewel shaped bottles that needed to be laid down on their side to display.
We all agreed the packaging is great, though.
But what about the scent? Despite the fancy presentation, for a $36 USD celebrity perfume, I wasn't expecting a lot, which may be a touch snobby of me. But it could well be a lot of style over substance. Only the nose knows.
Crystal Gardenia was first up. It's listed as having notes of pear, water lily, tiare flower, tuberose and gardenia. The first whiff was a full frontal assault of gardenia scented Glade. Not a great start.
Bel liked it though, and said it smelled "really fresh".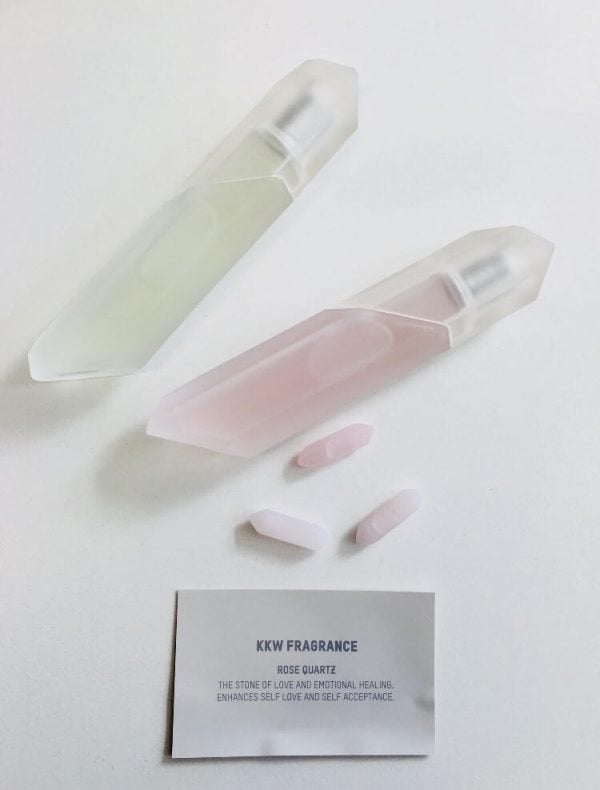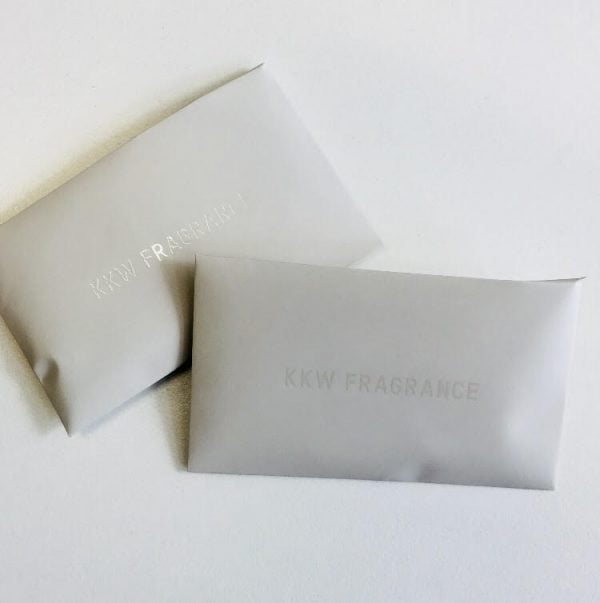 Luckily air freshener vibe wore off after ten minutes as the middle notes swept in, creating a clean, soapy vibe. It's strong - the bombastic gardenia, tuberose and soapiness make it a loud, white flower bomb.
With perfume trends these days leaning heavily towards the sweet and sticky, heavy white flowers are often associated with nanna perfumes. And there is a vague bit of nanna in this one, a touch of Crabtree and Evelyn (which I love with all my soul so that's not a diss, it's just... grown up).
But Crystal Gardenia feels more like a modernised version of something retro. It's not sweet at all, it's just floral, which is definitely going against the mainstream perfume trends of the past few years.
Once it settles, it's really quite feminine and lovely, and surprisingly moreish. White flowers are back baby!
Right, onto Gardenia Citrus. Adam gave it a spritz and loved it, demanding to know the notes. Glad you asked Adam, they're orange oil, lemon, pomelo, tuberose and gardenia, with a base of musk and Australian sandalwood.
This one starts off sparkling and tangy. The citrus really shines, the lemon oil and pomelo especially, but it's not exactly a unique scent. It feels like a lot of other lemony-orangey perfumes except again, it's not really that sweet.
The gardenia is the hero again here, and after a few minutes the citrus wears down and it begins to dry down to a musky, floral base. It's the more easily wearable of the two, but it's also more generic. The Crystal original has that extra something even if it takes a second to grow on you.
Britt agreed, saying, "The longer I have it on, the more I like it".
There's also Gardenia Oud, but we didn't get that one because I bloody hate ouds.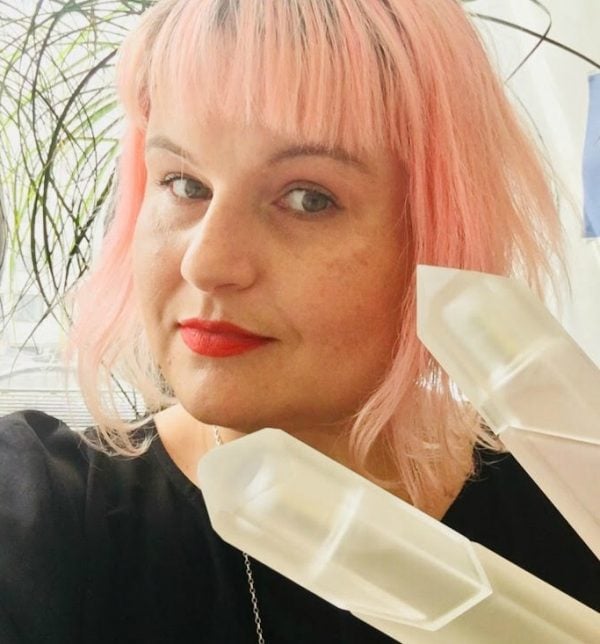 Our verdict? They're worth a sniff, and while they're not earth shattering, they are well done scents, especially for the price. And double kudos to Kim for bringing white florals back into vogue.
Plus the bottles are gorgeous, so much so that I wish I'd bought a spare.
Unfortunately the fragrances are sold out on Kim's site (though naturally they're flooding eBay), but the first 300,000 bottles were described as an "initial release" so there's a good chance they'll be back. Keep an eye out.