It's the TV show that everyone has been talking about for the last few months, now The Handmaid's Tale is finally available to watch in Australia.
The best part? It won't cost you a cent.
The latest adaptation of Margaret Atwood's dystopian novel, The Handmaid's Tale is set in the former United States of America now known as the Republic of Gilead world where women are kept purely for reproductive purposes, their rights and power totally stripped.
Listen: Why The Handmaid's Tale is the most important TV show of 2017. 
Starring Alexis Bledel, Mad Men's Elizabeth Moss and Orange Is The New Black's Samira Wiley, it's the first person account of Offred (literally of-Fred) as she tries to come to terms with the new regimen and explore whether there's anyway to escape.
It's had enormous resonance amongst people, particularly women, who feel that thanks to the current political state and discussions in the US, the events of the novel are not totally unfathomable.
Reviews of the adaptation have been overwhelmingly positive, with The Guardian labelling it "the best show you'll watch all year" and Rotten Tomato users giving it a rare score of 100 per cent. It's already been renewed for a second season to air in 2018.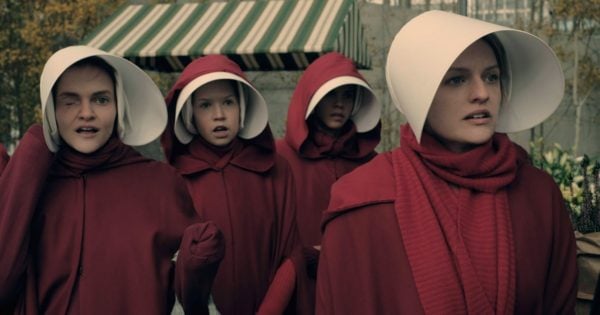 The series screened on Hulu earlier this year, and in Australia, the rights to screen went to SBS. However it won't be shown on the SBS TV channels, instead available to stream on SBS On Demand, the broadcaster's online service.
You can watch on your computer, hook your laptop up to your TV or access SBS On Demand on your smart television.
Cancel your weekend plans though - all 10 episodes have dropped at once, meaning you've got almost 10 hours of dystopian drama to binge watch.
Already watched it and need to debrief? Mamamia's TV podcast The Binge will be breaking it down and discussing the series in depth on next week's episode.
For the biggest and best TV news of the week, listen to Mamami's TV podcast The Binge.