Twenty-two years ago to the day, on a Sunday, Walter Mikac was hosting a local golf tournament on the sprawling greens of a course in Tasmania. His wife, Nanette, and young daughters, Alannah, 6, and Madeline, 3, decided to visit the local historic site of Port Arthur as he played.
Standing on the golf course, Mikac remembers hearing shots flying from across the bay. They were coming from Port Arthur, he thought, but those on course assumed they were a re-enactment of sorts. Tasmania was a safe state, Nubeena — the place he, his wife and two young daughters had settled in, having bought the local pharmacy — a safer city. The family would rarely lock their doors at night.
When the game finished, he later wrote, a young couple ran into the clubhouse. People at Port Arthur had been shot, they yelled. Racing home, Mikac arrived to an empty house.
He would later learn Nanette, Alannah and Madeline had been killed by a lone gunman who shot 35 people and wounded 23 more.
He does his best not to think about that day.
"I don't tend to look back at it, but it's one of the main things that lives in your memory bank. So whilst it may not happen every day, and I may not re-live it all the time, there are certain days you feel emotional," he tells Mamamia over the phone from his home in Byron Bay.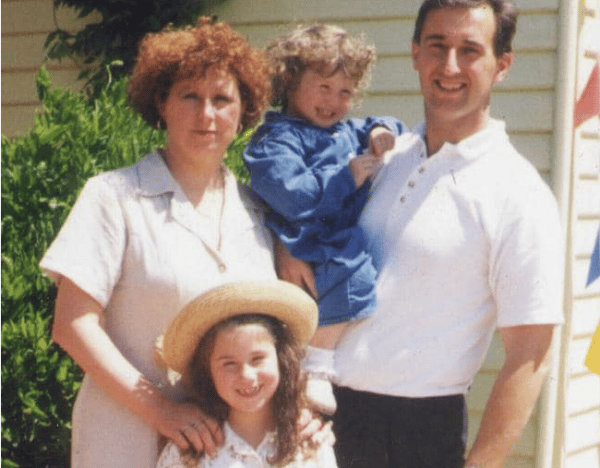 The next day, the day after he lost his entire family, Walter Mikac turned 34.
Over the last 22 years, Mikac, now 55, has done his very best finding solace in the smallest of things. The quiet memories, the songs he and wife Nannette would sing, the images lodged firmly in his memory of Alannah and Madeline sidling up to one another on the couch and having a cuddle.
There is, too, the letters Alannah had left in a diary that he would later be able to cherish. The memories of Maddie so desperate to be involved in anything the family were doing, she'd follow behind uttering nothing more than a defiant "me too, me too, me too".
"They were more dissimilar than similar. Alannah was really outgoing and was able to have a conversation with just about anyone. Maddie was definitely more introverted and quiet and just always wanted to be involved.
"Some of the stuff Alannah left in her diaries -- the pictures she drew and the letters she wrote -- it's pretty amazing stuff for a six-year-old. The overwhelming message in all that comes out of it is like a letter of love: I love my family, I love my sister. In all her stories, she writes so much of the things we did together. So to me, to some degree, that's a consolation. I knew she felt so secure and so loved at that point."