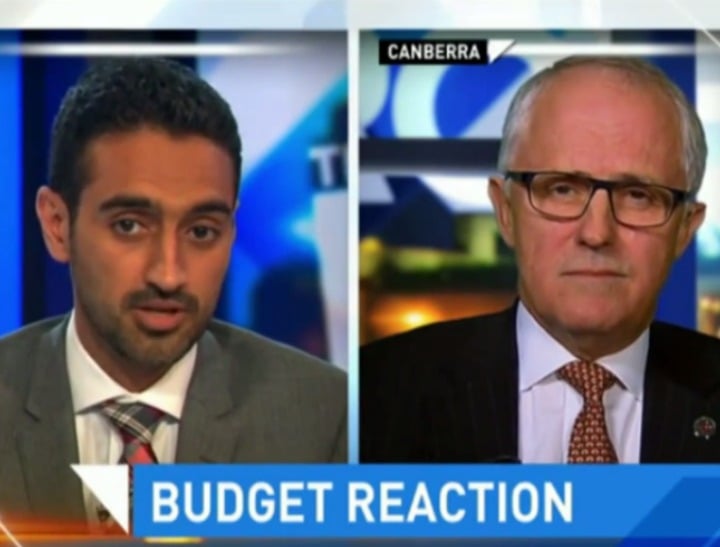 The Project is on a roll…
Last night, The Project team went head-to-head with Malcolm Turnbull over cuts to domestic violence services. And good on them.
Shortly before Joe Hockey handed down his second budget on Tuesday night, Waleed Aly slammed the Abbott Government for not spending enough to prevent violence against women.
In a powerful segment on The Project, he demanded they restore much-needed funding to services for domestic violence victims such as the 1800-RESPECT hotline, community legal services and homeless shelters.
"Show me the money," he said. But they didn't.
Despite describing domestic violence as a "critical issue" and a "national epidemic", in its latest budget, the federal government have promised a measly $16.7 million to partially fund a $30 million awareness campaign to tackle the issue. And that's it.
On last night's show, Aly asked Communications Minister Malcolm Turnbull what we were all thinking… "Do you genuinely believe that's enough?"
Watch the full interview here.
Turnbull insisted that the sum was not the whole picture and that overall Australian governments are spending billions of dollars to address the problem in various ways. He failed to articulate what these were, however, as he quickly steered the conversation away from money.
"The biggest thing we have to change is attitudes and culture, the attitude that domestic violence is somehow different to any other violence. The idea that a man hitting a woman is somehow or other 'private business', 'not my concern', but if that man was hitting someone in the street you'd be calling the police," he said.
"The fact is we have to have, right across the board, both at a political level, at a media level, and above all with our friends and families, that there is zero tolerance for men hitting women."