A "cerebrally challenged waste of skin" is how a West Australian police Facebook post described a man they arrested and charged.
The lengthy post was published on the South East Metro District Facebook page on Tuesday morning, detailing an incident involving a 24-year-old man allegedly driving a stolen car containing non-prescription drugs and trying to evade police.
The man was found by a police dog, and "with a noise like a terrified piglet and the face of someone trying to pass a pine cone, he grudgingly surrendered and was led whimpering to a waiting police van," the post read.
Listen: Rebecca Sparrow and Robin Bailey discuss the boundaries and etiquette surrounding families and social media.
The accused, who is yet to face court, was said to be "mewling like a two-year-old" after being bitten by the police dog.
"Our criminal genius has matching bite marks on both legs now. Another police dog gave him a friendly munch recently," the post read.
The author concluded with: "police officers are indeed fated to spend just a little bit of time with each of the stupidest people on earth."
A spokesman said police were encouraged to use a friendly, semi-formal style on social media, but the officer would be reminded to use a more professional tone in the future.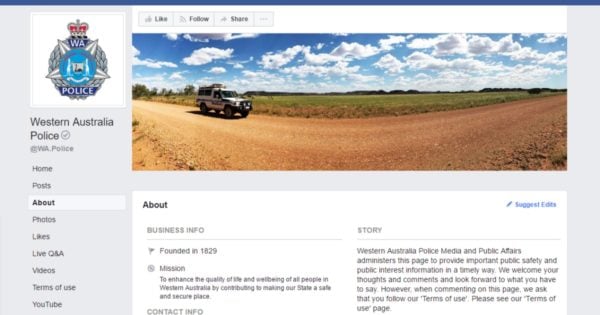 "In this case, the officer was over-exuberant in the language used and we've since removed the post for this reason.
"Police officers understandably become frustrated sometimes by the behaviour of repeat offenders."
WA police had about 180 social media accounts to keep communities informed, the spokesman said, with hundreds of officers posting to Twitter or Facebook to large audiences.
Officers with Facebook access are trained in using social media as part of their duties and have access to guidelines.