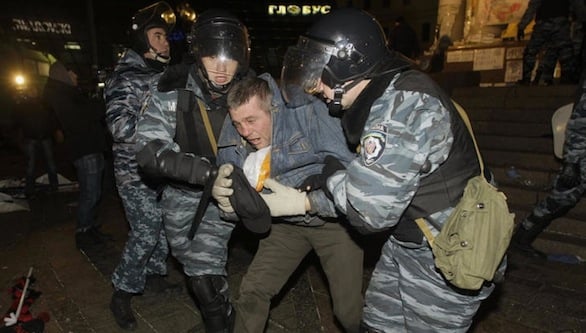 BREAKING NEWS: On the morning of 11-year old Luke Batty's funeral, his mother, Rosie Batty, has spoken to the Today Show saying that she always thought it was her that was in danger from her ex-husband, not Luke.
Luke Batty was killed by his father whilst at cricket practise last week.
Rosie Batty said that what her husband did was a selfish act and that she will never forgive him.
She said she was speaking out now, as she wanted to remove the stigma of domestic violence. She described living with violence as a prison sentence but tearfully she said it has ended in a great cost that she could never have imagined.
1. Ukraine's 'bloodiest day'
More than 24 people are dead and over 60 police officers have been taken hostage in the Ukraine after clashes once again broke out sparking the bloodiest day of violence in recent Ukrainian history.
The death toll since the violence broke out on Tuesday has been confirmed at 67. A live video stream by Radio Svoboda with journalists in Kiev has shown government forces firing on protesters.

2. Little Maddie dies
Maddie Tippett – the toddler who's father made the heartwarming video "Who's your favourite?" which went viral around the world – has unexpectedly died. Maddie is understood to have died from two separate strains of the common cold, that attacked her heart.
Three-year-old Maddie died in Newcastle on Tuesday.
3. Mother charged with manslaughter
A mother has been accused of killing her four-year-old daughter by making her ride a 50kg motorbike while she recorded videos and laughed. Ashlee Jean Polkinghorne, 22, pleaded guilty to one count of manslaughter yesterday in the Supreme Court in Adelaide.
Polkinghorne and her partner Benjamin Robert McPartland have been jointly charged with the January 2012 manslaughter of Polkinghorne's daughter, Chloe Valentine .
Prosecutor Sandi McDonald, SC, said Polkinghorne recorded several videos of her daughter falling off the motorbike and McPartland putting her back on. This occurred despite the preschool receiving extensive injuries. The daughter died in hospital.
4. Bali drug arrest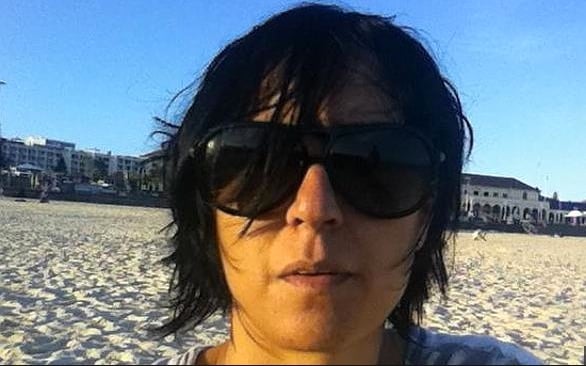 Police in Bali will today hold a press conference about the arrest of a 36-year-old New Zealand born woman, Leeza Tracey Ormsby, who lives in Paddington in Sydney.
News Limited report that Ormsby was arrested in a villa in Bali – which she was not renting – but to which she had a key to a locked drawer. Inside the drawer was 132.2 grams of MDMA and 26.06 grams of hashish.
It is reported that Ormsby claims the drugs are not hers. Reports are emerging today that an Australian man had rented the villa where the drugs were found, and that he returned home to Australia last week.
5. WA to have fresh election
The High Court has ruled the West Australian Senate election "absolutely" void. Meaning there will be a new ballot for all six senate spots that were contested in the 2013 poll.
The date for the election will be decided by West Australian Governor Malcolm McCusker, on advice from Premier Colin Barnett.
6. Police search for car thief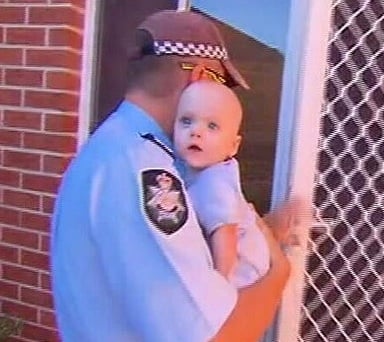 Police in the ACT are searching for a man who stole a car with a seven-month old baby still inside.
For more read this post here " Now THIS is every mother's worst nightmare".
7. Peter Greste
Australian journalist Peter Greste who is in jail in Egypt charged with joining or aiding a terrorist organisation – the Muslim Brotherhood – has been refused bail as his trial starts.
The three foreign journalists Egyptian-Canadian bureau chief Mohamed Fahmy, Australian reporter Peter Greste, Egyptian producer Baher Mohamed and five others were refused bail before the case was adjourned until 5 March.

8. Sex Education
Parents are expressing concerns over the final draft of the Health and Physical Education national curriculum, which will see children as young as eight start to study sexuality, drugs and alcohol.
Students in years 3 and 4 will study 'sexuality'. Alcohol and other drugs are also listed as a focus area for the first time in Years 3 and 4. The Courier Mail reports that puberty will be taught from Years 5 and 6, but that a push for mandatory swimming lessons had not been successful.
9. Phone hacking trial
On her first day of giving evidence at the UK's phone hacking trial, the former editor of News of the World, Rebekah Brooks has denied knowledge of alleged phone hacking.
Mrs Brooks said that during her leadership of the paper, she had never heard private investigator Glenn Mulcaire's name mentioned. Mulcaire was allegedly privately engaged by News of the World on several occasions to tap the phone of high profile people and their families.
The judge also formally cleared Rebekah Brooks of one count of conspiracy to commit misconduct in public office.
10. Pussy Riot
Pussy Riot have released the video clip they were filming in Sochi, which features footage of the beating they received yesterday from Cossacks after they attempted to perform in front of a Sochi sign in the Olympic city.
11. Juice ban
The ACT Government will this morning announce a ban on the sale of fruit juice and soft drink in vending machines at Canberra public schools by the end of this school term.
Chief Minister Katy Gallagher will announce the ban this morning and is expected to announce further plans to extend the ban to canteens.
In Queendland (where a soft drink ban already applies to schools) the Chief Health Officer Jeannette Young is calling for a similar style ban for children's sporting events.
12. Facebook turned him down for a job.
In 2009 Facebook turned Brian Acton, founder of the multibillion dollar WhatsApp, down for a job.
The Internet is rife with rumours today that there is big regret through the company for that decision.
Which sounds pretty reasonable since Brian Acton then went on to found the messaging service WhatsApp that yesterday Facebook has announced it is buying for more than $16 billion in cash and stock.
13. She wants to change her name to WHAT?
A Wodonga woman who wants to be called "Noname Nocomment" has appealed the decision after her name change application was rejected.
The fifty-year old woman has appealed to the Victorian Civil and Administrative Tribunal arguing that her proposed name is not offensive compared with others in common use such as "Dick".
The Herald Sun reports that the new title is "unusual", and says it is intended to reflect how she feels about her given and family names.
What news are you talking about today?