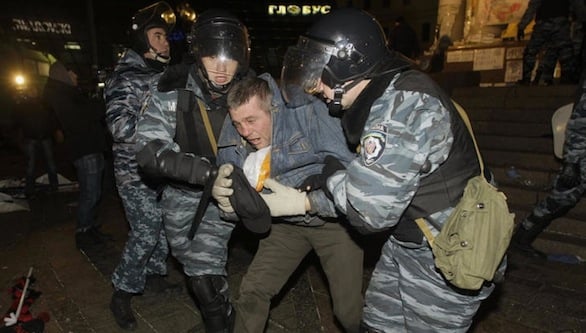 BREAKING NEWS: On the morning of 11-year old Luke Batty's funeral, his mother, Rosie Batty, has spoken to the Today Show saying that she always thought it was her that was in danger from her ex-husband, not Luke.
Luke Batty was killed by his father whilst at cricket practise last week.
Rosie Batty said that what her husband did was a selfish act and that she will never forgive him.
She said she was speaking out now, as she wanted to remove the stigma of domestic violence. She described living with violence as a prison sentence but tearfully she said it has ended in a great cost that she could never have imagined.
1. Ukraine's 'bloodiest day'
More than 24 people are dead and over 60 police officers have been taken hostage in the Ukraine after clashes once again broke out sparking the bloodiest day of violence in recent Ukrainian history.
The death toll since the violence broke out on Tuesday has been confirmed at 67. A live video stream by Radio Svoboda with journalists in Kiev has shown government forces firing on protesters.

2. Little Maddie dies
Maddie Tippett – the toddler who's father made the heartwarming video "Who's your favourite?" which went viral around the world – has unexpectedly died. Maddie is understood to have died from two separate strains of the common cold, that attacked her heart.
Three-year-old Maddie died in Newcastle on Tuesday.
3. Mother charged with manslaughter
A mother has been accused of killing her four-year-old daughter by making her ride a 50kg motorbike while she recorded videos and laughed. Ashlee Jean Polkinghorne, 22, pleaded guilty to one count of manslaughter yesterday in the Supreme Court in Adelaide.