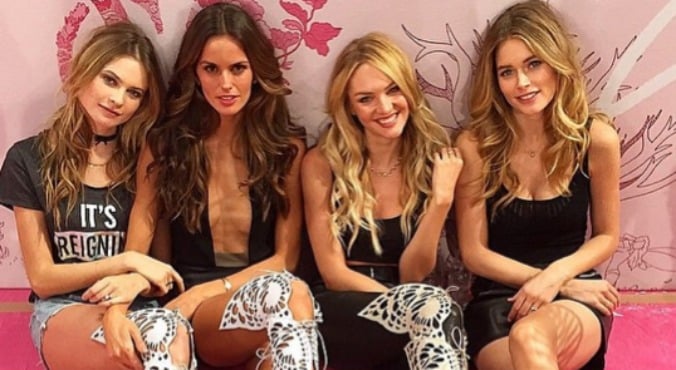 Images via Victoria's Secret Instagram.
Have you ever noticed that all Victoria's Secret models look the same? And I'm not just talking body-wise.
Although, if you've ever subjected yourself to watching the annual Victoria's Secret fashion show, it's fair enough that you've been distracted by their ridiculous abs and pushed-up cleavage.
Take a look at this image from yesterday's Bond Street media event. Notice anything… odd?
Got it yet? No? Keep looking. I'll wait.
.......
.......
Ready?
Did you spot the difference? The one model with a different hairstyle?
In case you missed it, it's Jourdan Dunn, over in the far right rocking THE haircut of the year, the bob.
Everyone else has the same hair. EXACTLY the same tousled, nipple-length hair. They also have what appears to be a socially acceptable amount of 'natural' makeup on. It's like looking at a row of cookie cutter, factory made dolls.