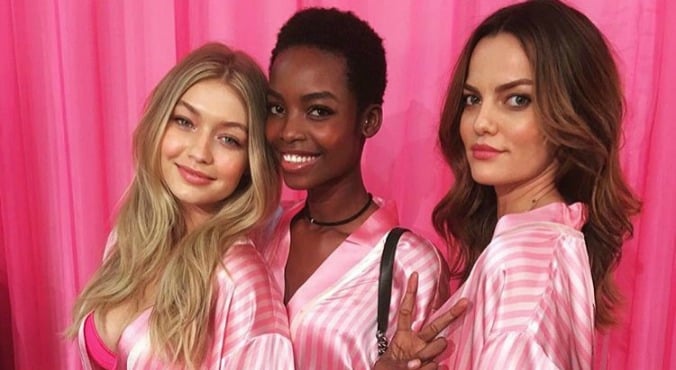 Image: Instagram.
The inaugural Victoria's Secret Fashion Show has come and gone for another year in a frenzy of wings and (barely there) lingerie.
While we're now all acquainted with the gruelling pre-show fitness and health program the Angels adhere to, their beauty regime sounds a lot more pleasant.
According to US Weekly, after giving the models an oxygen-infused facial, facialist Mzia Shiman gave each and every one of them a Decleor Aroma White C + Brightening Sheet Mask to use the night before the show. (Watch all the highlights from the VS show. Post continues after video.)
It's a mask Shiman swears by and the Angels love, largely because it targets their number one skin concern – redness.
"The mask not only hydrates, but also balances the skin. It takes away any redness. If someone worked out, or even just had a facial, which can sometimes cause a little redness, the mask will just cool the skin off – it's a 15 minute boost," she told the magazine.
The masks are currently only available in Australia on sites like The Beauty Club and eBay and will set you back around $60 for five masks – that's if you can get your hands on any in the first place.
If you want in, get online quickly, it's no surprise that in most places they're already sold out. Typical. (Post continues after gallery.)
Backstage at the 2015 Victoria's Secret Runway Show