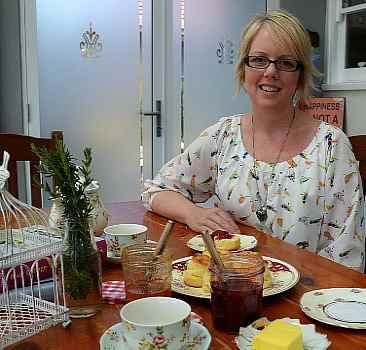 By JANIS BENNETT
In December 2012 I had come off a particularly stressful year, as well as the usual stuff – work deadlines, financial woes, and the 'normal' anxieties that come from our 21st century modern world, as a family we had had our fair share in years previous of significant life altering stresses that didn't help our anxiety levels, nevertheless, that just all got pushed further away.  I was approaching 40, married with a 6 year old who was about to start school.
I was working part time, going to the gym and I was like most people, perpetually busy like the hamster on a wheel.  I did like my time at work though, the work regime appealed to me, and of course for a mum it's an easy social outlet. Be that as it may, the shine was coming off it. I was burnt out and sick of the daily grind.  I was all set for starting holidays for 7 weeks for the summer break. Trips to the beach, time with family and friends and most importantly no alarm to ring in the start of yet another ground hog day.  I wasn't listening to the quiet twinkling of the internal alarm bell that was ringing.
Things didn't quite go to plan.  I was fighting a niggling neck/shoulder mystery injury, a cold/flu that was lingering and I was feeling slightly dizzy at different times during the day.  I put it down to having one too many pinot gris on more than one occasion over the Christmas festive season.  I soldiered on as most of us do, too busy to be sick.
A few weeks went by and then came terrible neck/shoulder pain that I couldn't shift no matter how many painkillers I took and add to that dizziness that was unsettling.  I couldn't safely drive nor could I stand for too long without the fear of falling over.  I was needing to stay in bed for days to rest. It was like living on a boat with daily nausea, vomiting and disequilibrium, I was frightened.  Something just wasn't right. The internal alarm was sounding loud and clear now.
I went to my GP numerous times and they tested for everything from pregnancy, tumours, and chronic fatigue type illnesses.  I was full of anxiety with each new set of tests that kept me in limbo. One of the hardest things I've had to deal with was the constant pain and the fact that I had less energy than my 88-year-old grandmother.  This was embarrassing!  I wasn't getting answers so I did what most of us do…. I googled it.  I scoured the internet and worked out it could possibly be Vestibular Migraine.  Vesti-whoa? Migraine? I suffered from migraines in my 20s, this wasn't like them.  I didn't have a headache so it couldn't be a migraine…. could it?