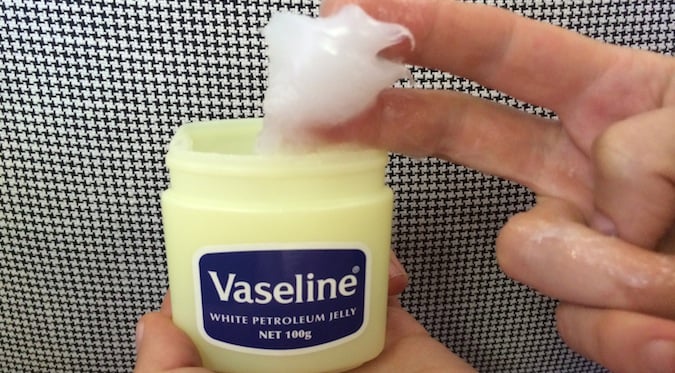 Image: The Glow
When I was a teenager, a pretty lady in the women's toilets told me that if I ever found myself without my makeup bag, I could just buy a tube of Smarties and use the brown for eyeliner, the blue for eyeshadow and the red for lipstick. When I repeated this to a more worldly friend later, she pointed out that the lady was likely a prostitute, but still, it's instilled in me a great excitement for MacGyver-style beauty hacks.
RELATED: Use toothpaste on your fingernails – and 8 other celebrity beauty hacks
Here are my five hacks using petroleum.
1. Brow gel that's not, like, 30 bucks
Every fancy brow gel I've seen basically does the exact same job as Vaseline. Brush some Vaso on very sparingly with an old mascara wand. You're done.
2. Magic, light-attracting highlighter
I promise you, this works. Just smear some Vaso on the most prominent part of your cheekbones, so that the light catches it. You could always mix in a bit of blush or metallic eyeshadow if you want colour too. Big tip: Apply this in good light. I've done it hastily before and later found out I've been wandering around looking like I've got the flu.
3. Eye cream for sore losers
Other than Dr Organic Honey Manuka Rescue Cream, I can say that Vaseline and paw paw ointment are literally the only things that don't burn the skin around my eyes when it's going through a sensitive period (which is the second half of my cycle, if you're really curious. Throw in hay fever season and my eyes are ruched like curtains). Forget the expensive eye creams in tubs barely big enough to accommodate your finger, put some Vaseline on as both a way of locking moisture in and a barrier to keep the allergens out.
4. Lube for lips, elbows, knees, heels
Back in the olden days, before sex-lube was marketed at ladies with sleek femme packaging, we just stuck some Vaseline on it. The same rule applies for your other dry bits: Lips, elbows, knees and heels. It's good to get into a daily routine with these areas, rather than waiting till part of you snags on the carpet.
5. Finishing touches to your face
A dot of Vaseline in the centre of your lips after you've put on your lipstick will make your lips appear fuller by dazzling the beholder with light. You can also slick some – just a little bit – on top of your mascara to make your lashes look healthy and shiny.
---
Now sing it: