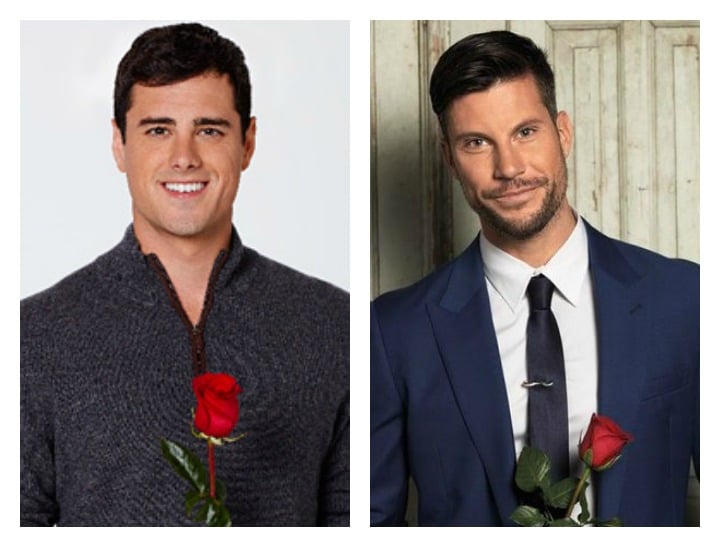 1. The number of contestants.
Rule of thumb, on the US Bachelor there tends to be many, many more women. The most recent series of the US Bachelor featured 28 contestants vying for Ben Higgin's love. It's safe to say the more women, the more drama.
The Aussie version usually includes 24 contestants, though the last season featuring Sam Wood had 22 women to begin with and then added two 'intruders' in later weeks.
2. The entry.
The women on the US Bachelor tend to go all out for their first introduction. This season Joelle 'JoJo' Fletcher wore a giant unicorn mask, and Lace kissed Ben on the lips, wanting to be his 'first kiss' on the show. No, they're not all crazy – those gimmicks and the order the girls appear in is all planned by producers. The women on the Aussie show haven't bowed to that pressure. According to Penny Palman who was on the first series of the Aussie Bachelor with Tim Robards, the producers suggested to her things to do during her entrance. "They were saying [the producers] so and so is going to do this and she's got that and you're not going to stand out unless you do something. There was a lot of pressure to come up with something cool," Penny said.
3. The outfits.
On the US Bachelor, the contestants need to buy all of their own dresses. The Network, ABC, only supplies dresses for the two finalists during the finale. If you ask us, we would have expected more given the extravagance of the US version in comparison to others. On the Aussie Bachelor the women are provided with outfits for the rose ceremonies but wear their own clothing on the dates and in the house. So it appears they get a better deal in that regard. However, a former producer on the show told Mamamia the women are often given sample sizes of dresses and are sewn into their outfits.