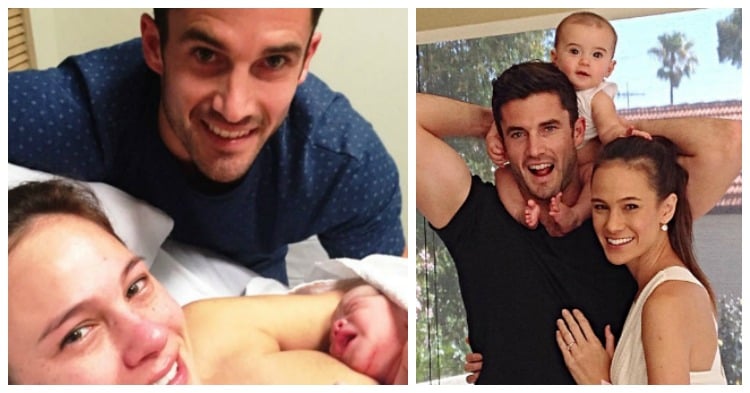 2nd of June 2015, the arrival day is upon us.
It was early… I'd know, I watched the clock all night! A midwife made her way into our room to undertake some routine checks to ensure everything was on track. I must have looked like a site, tracksuit pants on with the seam off to the side, no shirt on and bed hair… Morning ladies!!! The sleepless night thoughts were short lived with the green light given for Alana to head down to the birthing ward.
The midwife brought in a wheelchair for Alana, but being the trooper she is, she was happy to walk from our small temporary room down to the birthing suite. It's hard to explain what is going through my head at this point as I begin the walk down the hospital corridor with every limb carrying something. This is the day I would have a daughter, how it was all going to play out was all just talk up until this point, this is now for real. We still didn't know a time or any of that. It was all up to our little girl to decide when she was ready. All I knew is that this daddy was very excited and eagerly waiting to meet his baby girl.
We had previously seen a birthing suite in our brief tour of the hospital during the birthing classes, so we had a bit of an idea of what it looked like, however we were put into one of the recently refurbished suites. This was like the Rolls Royce of hospital rooms. Big screen TV with heaps of channels, mini kitchen, big bathroom, huge birthing bed which had multiple gadgets attached to it, machines everywhere all ready to serve a purpose at some point through the day, a lounge suite that I wouldn't sit on and the bedside chair, which was just a basic desk chair which I would spend most of the day in.
At this point it was 8am, the next procedure was for Alana to have her waters broken to get this little baby on the way. Without going into the details it was exactly like I'd seen in the movies, the waters came rushing out, hospital was a good place for it to happen though! We were lucky it didn't happen to Alana in the middle of an outing somewhere like a few stories we had heard in birthing class. Once that part had been done we just had to wait until the contractions came along. We could see when they started happening as Alana had heart rate monitors placed on her stomach monitoring our little girls' movements. Each time the beats quickened meant a contraction was occurring.