Dear Uber Drivers,
Actually, I shan't discriminate. Let's include Uber, all other ride-sharing services, and cab drivers who ask me more than, 'Where are you going?'.
Many, many times, you have saved my life. Not literally, but you have saved me from many stressful, unfortunate moments.
Say the time I desperately wanted to leave the office Christmas party, with one click of a button I had requested you arrive around the back where I could sneak out.
Or, when I had stayed back at university studying and the buses were no longer running. There, dearest Uber (and all other networks), you were.
Despite my self-described love and my eternal gratitude for your services, there is one thing I do not sign up for.
Your life advice.
Now, many people might disagree with me on this.
Some of my friends have never been victim to the 11pm unsolicited life coaching session of a driver.
Hell, even one of my colleagues, Luca Lavigne, wrote a whole article thanking an Uber driver for her incomparable life advice.
HOWEVER.
Unlike Luca's situation, my life advice is rarely welcome. And, it doesn't come with the hope of actually improving my life. It is mostly slightly condescending and disapproving of my life choices.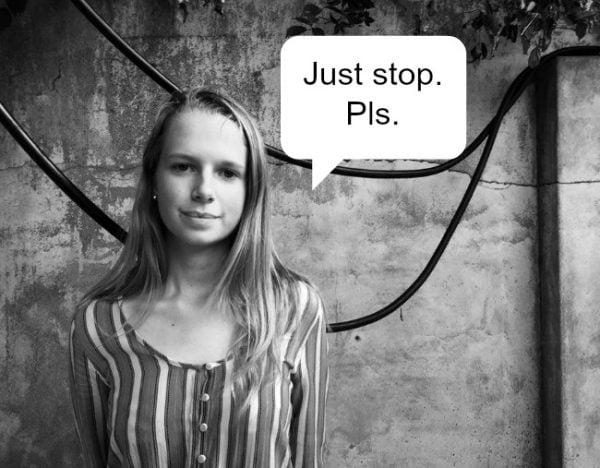 I purposely picked this photo of me looking upset. BECAUSE I AM UPSET.
If you don't believe, then I have already prepared three examples.
Exhibit A: 'You shouldn't sell out to Sydney.'
It was approximately 4:05am. I live in Brisbane. The HQ for my work is in Sydney.
So, once again, I found myself in the company of a strange person as they kindly drove me to the airport at that ungodly hour.
We chatted most of the way and she was really lovely. Until, she asked me why I was travelling to Sydney.
Listen: Now, life advice aside, we love Shebah at Mamamia. Listen to a snippet of our interview with their founder. (Post continues after audio...)
I explained that's where work was and in the next few months, I would be moving there, just so I would never have to be on a plane at this time again.
"I could give you 10,000 reasons not to move to Sydney, right now," were the first words that she said to me.
FIRST WORDS.
"Yeah, it's not everyone's cup of tea," I responded because Brisbane people have told me this approximately four million times.
"But, seriously, have you already made the decision? I am so sick of people selling out to Sydney," she continued. "You will literally not meet one sincere person down there."
Thank you for your vote of confidence, driver, who I met approximately 20 minutes ago.
Your positivity is so helpful before I make one of the biggest decisions of my life. Did I say thank you enough?