Tziporah Malkah knows what you're thinking.
She knows what I'm thinking. She knows what all Australians are thinking.
And it's this: "We are in danger of being swamped by Muslims."
In the shower this morning, you were most likely pondering: "We're bringing in people from South Africa at the moment. There's a huge amount coming into Australia who've got diseases: they've got AIDS."
And last week, when you saw all those hundreds of thousands of women around the world marching in the streets against Donald Trump's America, you were definitely thinking: "It's good that they were out and about and doing a bit of walking because it looked like a few of them needed to get a bit of sun and do a bit of exercise."
You see, Tziporah knows that what Australians think, Pauline Hanson says.
Right now, Tziporah – yes, yes, formerly known as model, actress and Packer-fiancee Kate Fisher – is in the South African jungle, as one of the most interesting draw cards on I'm A Celebrity, Get Me Out Of Here.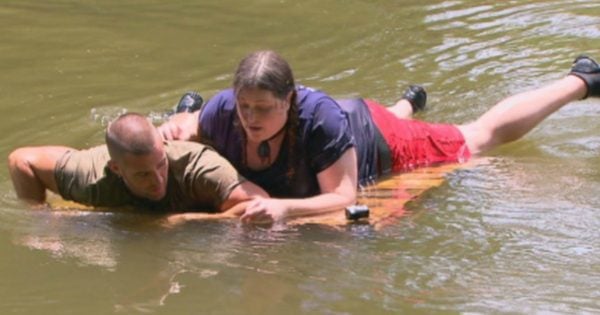 There's a lot of sitting around to be done in the jungle while you're waiting for the latest coffin to be filled with cockroaches or the snake soup to be brewed, so Tziporah is doing her best to make some friends. In her sights is Steve Price.
You know Price, he's the Melbourne "shock jock" who's often the token right-winger on The Project. Tziporah, who's an enthusiastic supporter of Donald Trump and the alt-right, just knew they were going to get along like a house on fire.
"You are one of my favourite people in the world," she told him when they met. Price, a man who has been known to refer to women with opinions as "hysterical" more than once, was unsure.
But Tziporah ploughed on. Here was a kindred spirit. "What do you think about Milo Yiannopolous?" she asked him.
Who? Milo Yiannopolous, for those of us playing at home, is one of the alt-right movement's most popular poster boys. He's British, devastatingly bright, young, handsome, gay - and a professional provocateur whose damning speeches about Islam and feminism and whose brutal trolling of African-American actress Leslie Jones have seen him become the Left's Public Enemy Number One. Hilary Clinton used some of his article headlines - 'Birth control makes women unattractive and crazy' and 'Would you rather your daughter had feminism or cancer?' - in one of her campaign speeches.
He's a man who calls Donald Trump "Daddy". Tziporah thinks he's wonderful.
"Milo and the alt-right," she told Price. "They say things that EVERYBODY else is thinking, like Pauline Hanson."
Tziporah isn't alone in this belief. Principle in philosophy of Planet Trump about What's Wrong With The World is that underneath our mild-mannered exteriors, all of us are boiling with rage and resentment. We all feel gagged by "political correctness". We all think women have got too shouty. We would all really like it if those ladies could take off those "headscarves" that are making us uncomfortable. We would all like a wall, please. Can we have one around Australia? Just give all the nice white people keys to strategically-placed gates so we can still get to the beach?
For Tziporah's heroes Milo and Pauline, the modern, multicultural world is terrifying. Too many people who didn't used to be allowed opinions seem to have them now. They feel that way, so clearly we all feel this way, and they are just the brave warriors prepared to speak up.
Speak up and say things like:
"I know not every Muslim is a terrorist but, to the best of my knowledge; every terrorist attack has been by Muslims." That was Pauline.
"We are a Christian country and that's what I'm saying is we have never ever had any issues or problems or fear in our country from any other religion. That's fact." Pauline again.
"I do not believe that the colour of one's skin determines whether you are disadvantaged." Yup, Pauline.
These are not thoughts that many of us share. Some of know that terrorist attacks have been carried out by many different extremist groups throughout history. Some of us have read the Royal Commission Into Institutional Responses to Child Sexual Abuse's findings on the Catholic Church. Some of us are aware of the gap, both in the quality and length of life, between Aboriginal and non-Aboriginal Australians.
Pauline Hanson does not speak for all Australians. She speaks for a polarising minority who embrace 'alternative facts'.
And before we talk about "everyone", let's remember that even in Trump's America, where Yiannopolous peddles his nonsense, only 57.9 per cent of the eligible population voted in last year's election. And less than half of those voted for Donald Trump.
Reality TV Whiplash on The Binge. 
While she's in the jungle, Tziporah Malkah is raising money for a centre for homeless women. Her day job is as a nurse in a care home. She is a funny, compassionate, religious woman who has been mercilessly trolled by the paparazzi, the tabloids and  yes, some actual trolls, for daring not to follow the script we have sorted for beautiful young starlets: she ditched the rich guy, went in search of a more meaningful life and - most unforgivable of all - she put on weight.
There is much to admire about the path she's chosen and the causes she's highlighting now she's back in the glare of "celebrity".
But she doesn't know what we're thinking.
And neither, most certainly, does Pauline Hanson.