A game show challenge involving two women, a clear plastic tube and a cockroach has us dry-retching into our hands.
Dubbed "Two Girls, One Cockroach", the 2015 footage from an episode of Japanese game show AKB48 has resurfaced, going viral again on Facebook.
In it, two women sit at either end of a plastic tube. In the tube is a cockroach. The contestants take turns in blowing air through the tube with the aim of pushing the cockroach into the other's mouth.
This is one game show we will NOT be signing up for.
Our thoughts go out to the poor loser who ended up eating the bug. We hope she was hungry.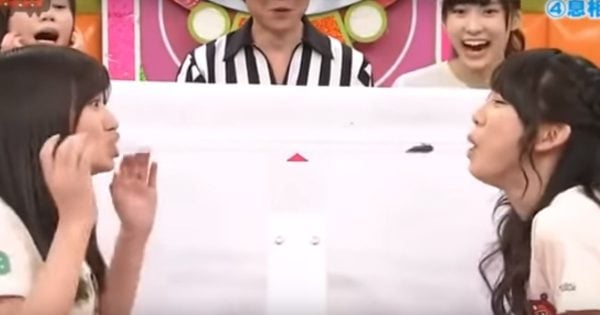 The game show features members of Japanese idol girl group AKB48, of which there are over 130 members.
The cockroach challenge reminds us of some of the horrible activities I'm A Celebrity... Get Me Out of Here! contestants have to endure. Some of the worst include eating ostrich penis, fish eyes and kangaroo anus.
Suddenly the cockroach doesn't seem so...bad? Nope, still does.