Twin Peaks has an absolute cult following.
Launched in 1990, it lasted less than a year before being cancelled due to poor ratings. I'm not doing a great job of selling it yet, I know. But wait on.
Ultimately a murder mystery, the new series – revived by Showtime, and taking place 25 years after the original – holds its audience tight with an explosive cross-genre expedition into soap-opera territory, with a supernatural undertone.
Confused? We were too. So we created a super-simple Twin Peaks explainer, here.
It may seem like it's trying to do too much.
But if you're a bit confused? That's absolutely fine. It might even be the point.
Listen to Twin Peaks cult-follower Holly Wainwright explain why she found the Twin Peaks revival initially difficult to stomach on The Binge. Post continues after audio.
You see, the original two seasons – the ones that aired in 1991 – were shot by Director David Lynch in one, continuous 18-hour shot. Like a really long movie.
Those original seasons were cut and chopped in an impressive effort to sculpt them into a television series.
As Laura Brodnik, host of Mamamia's television podcast The Binge aptly puts it: "I don't think you can expect it to follow a linear story line. David Lynch is not here to reel you in by giving you new information at certain spots."
It was – and still is – mysterious and unorthodox in ways other shows simply aren't. Therein lies its cult following.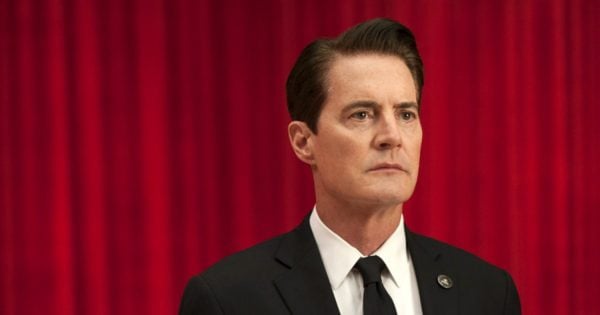 Holly Wainwright, Head of Entertainment here at Mamamia, is a member of that cult following. And for her, Showtime's Twin Peaks revival has brought about a bit of an epiphany.