Just days after returning home from Africa and after offering a glimpse of her beautiful, pregnant belly on Instagram, Turia Pitt has revealed her baby's sex.
"Crazy to think that our new little third wheel is halfway cooked! The scan told us we've got a kid with an X chromosome and a Y chromosome on the way …. yep, it's a boy!" Pitt wrote on her blog.
The 29-year-old former mining engineer previously posted a picture from her travels in Namibia in which she exposed her tummy as a means of connecting with pregnant women from a local tribe.
"Pregnant bellies… some things cross all cultural boundaries!" Pitt captioned the image. "Whenever I meet new people, the first thing I do is find something in common with them.
"This remote Himba tribe was easy once I lifted up my shirt."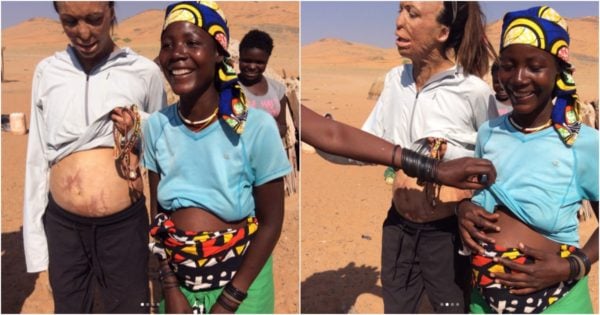 Pitt and her fiancé Michael Hoskin last month announced they are expecting their first child during an interview with 60 Minutes.
"We're stoked. We couldn't be happier," Hoskin told the program. "Turia told me the other day she's the happiest she's ever been in her life."
The couple are currently in Africa on a much-needed holiday.
"Michael and I are about to head off on an epic safari through Namibia!" Pitt wrote on Instagram late last month. "We're taking this time to just switch off and enjoy the company of each other, and I suppose, a lion or two as well."