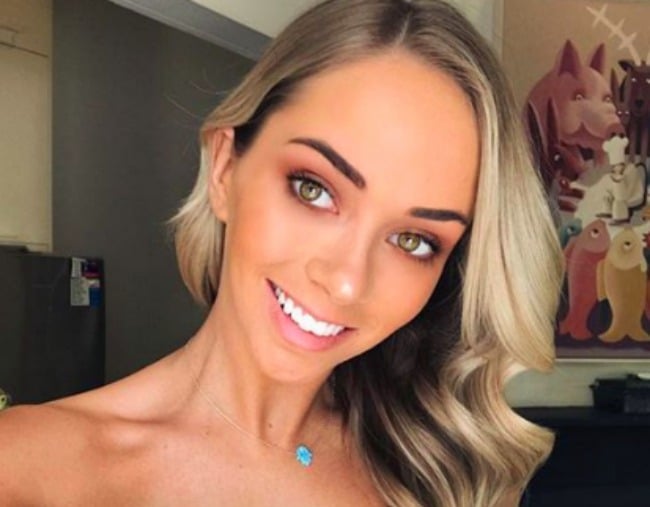 In the years since she exploded onto our TV screens on Big Brother in 2013, Tully Smyth has done what those around her struggled to emulate: She never left our radar, nor the peripherals of the public eye.
As other former reality stars dabbled with their rise to fame, and their subsequent and inevitable fall, Smyth has been the anomaly. That one that stayed relevant, the one that built her social media following into something that became her livelihood and the one who carved a space for herself in that vague, confusing but remarkably profitable world of 'influencers'.
Her Instagram feed is populated with sunny snaps and bright colours, the narrative one of big smiles, close friends, beaches, wine and carefree glamour.
But for the tales her feed tells, Smyth knows that image of sunny perfection is just that: a glossy picture, a land-far-away ideal. Not anyone's reality, not even hers.
"You want to know my reality? What goes on in my every day life? This. This is my reality," she wrote on Instagram on Sunday afternoon, a black-and-white photo jarring in comparison to her usual highly-saturated snaps. She sits beside her mother, one hand in her mother's, another covering her eyes.
"I would normally never share something so private, so personal. In fact I've sat here and changed my mind about posting it at least a hundred times. Since I gained a social media following overnight due to my appearance on Big Brother back in 2013, I've struggled with wanting to use my platform to raise awareness for @alzheimersaus and wanting to keep our family's heartbreak private.
"I share photos of my mum from before she was sick, trying to protect her. Trying to ensure that the world remembers her as she was: beautiful and bright and bold. And not as she is today: frail and ravaged by the disease. Unable to talk. Unable to recognise us. Barely alive. Stuck in some cruel purgatory."
As the focus and glare of the public eye grew brighter, so too did Smyth's desire to protect her mother. Until this week, when "something happened that broke [her]". Social media wasn't fun anymore. It told the world so very little about the actual world she inhabits.
"It's ruined social media for me. It's taken the fun, the frivolity out of what I do. My bubble has burst and I'm f*cking angry.
"I'm heartbroken. This – Instagram – is not real life. My feed, all the parties and stupid selfies and pretty photos of my free food, is not real life. It's a curated version of events. It's my highlights reel. It's not what's important to me."
Instead, she writes, her "reality" is her family and her friends and her loved ones. They are her "priority". They are what's "important" to her.
"I will always move heaven and earth to protect them.
"I've said before that I don't like asking for favours, I don't like asking for help," she writes, asking her followers simply to donate – even just $10 – to Alzheimer's Australia.
"It would mean the world to me. It would make my heart a little less heavy today. It would make the knot in my stomach a little less tight."
Talking to Mamamia, Smyth says after four years in the public eye and a life lived virtually, she's found herself more and more "disillusioned" with social media, and the insidious and shadowy effects it was having on her mind.
"People assume so much about who I am based off what they saw on Big Brother or what they see on my Instagram feed and it can be exhausting trying to prove them otherwise. I'm tired of trying to convince people I'm intelligent. Or career-driven. Or that I care about something other than the brand of dress I'm wearing that day.
"Just because I'm winking and smiling in a selfie doesn't mean I haven't struggled with anxiety that day, for example."
Social media as we know it is new. Celebrities have built second careers, models have crafted their own public profile and influencers found a place to market themselves. But in being so shiny and new and fresh, reality has begun to lose its shine. No one wants to talk about the real world anymore, because what's real, and what's appealing online, don't seem to fit the same brief.
"My social media feeds are highlights reels of my life. And the thought that someone else may be comparing their bloopers reel with my highlights and feeling badly about themselves, or where they're at in their own life….well, it's been keeping me up at night. My life is messy and I have days where I struggle and I guess I'm just sick of pretending otherwise."
Smyth tells Mamamia the story behind Sunday's Instagram photo is, for her, a highly emotional one. She had had a "particularly bad" week. She "felt broken". So she went home to her dad, "sat on his couch and cried for two days while he rubbed my back and told me it was all going to be okay".
Behind this photo was someone who is so used to sitting in that spot, holding her mum's hand and having a tear. But this time, it was someone who wanted to make some good out of a situation that's just bluntly bad.
"It never gets easier. She always looks worse, frailer. I try to catch her eye contact but she looks straight through me. I hold her hand. Tell her I love her, that I'm sorry. Dad often takes photos, usually to send to my brothers if they can't make the visit but today I wanted to do more. I saw the photos he took and they were so raw. I thought they might be powerful, if I was brave enough to share them," Smyth explains.
"The idea that 230,000 people think I live this carefree, fun life of parties and events and thats all there is to me makes me sad. Sure, thats a small slice of it…a fun slice, a slice that I choose to share online. And don't get me wrong, I'm blessed to have had those opportunities and experiences.
"But that isn't my every day life. This was. This was me. And I needed to share it. To expose myself, warts and all."
Because, she says, if it helps just one or two people understand how little of each other we really know, and encourage one or two more to donate, then her "shitty day had not been for nil".
For now, as Smyth wrote on Instagram a couple of days ago, she's having "a little time out" from the world of social media. Sometimes, she says, "it causes [her] more anxiety and pain than it brings joy".
Because although we all know, and we're all told – time and time again – that Instagram and reality are spheres that simply don't overlap, sometimes it takes the most raw kind of admissions to pull the veil back entirely.
And it's then – and only then – that we realise, once again, we're all fighting something. That the sunniest, brightest, most glossy and glamorous feeds filter out the ugly battles we've all got our pitchforks, and so much of our energy, working on.
If you would like to donate to Alzheimer's Australia, you can find them at fightdementia.org.