There's no need to wonder any longer about what exactly went down between newly-elected US President Donald Trump and Prime Minister Malcolm Trunbull Turnbull during that infamous January 28 phone call.
The entire transcript of the first conversation between the two leaders has been leaked by The Washington Post and it makes for some truly bizarre reading indeed.
The duo were meant to discuss a deal made with former US President Barack Obama to resettle 1250 refugees from the Australian Detention centre in Nauru to American shores, but things quickly turned sour.
Things started out pleasantly enough, with Trump and Turnbull chatting about their mutual acquaintance, Australian golf legend Greg Norman.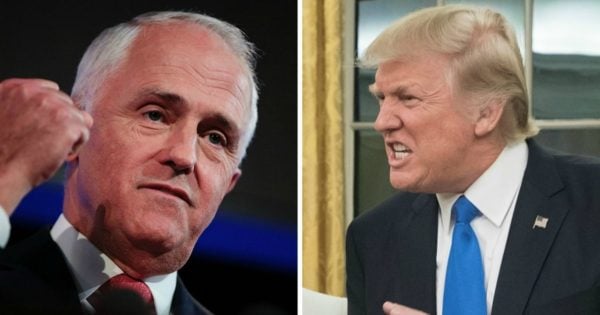 "I guess our friend Greg Norman, he is doing very well?" Trump asked.
"He is a great mutual friend, yes," Turnbull responded.
But the pleasantries soon evaporated as Turnbull firmly pushed Trump to accept the refugee deal, with Trump arguing the deal would make him look "awfully bad" and make America look like "a dumping ground".
Turnbull, with plenty of political stock invested in getting the deal done, pushed Mr Trump.