Wimbledon champion Bobby Riggs was, in his own words, a "chauvinist pig".
"Women belong in the bedroom and kitchen, in that order," he once said.
They certainly did not belong on the tennis court.
Riggs firmly believed female tennis players ought to be paid 25 per cent of what male tennis players earned, given they "play about 25 per cent as good as men".
Up until then, the world had looked pretty good to Riggs. In the early 1970s that's how much women tennis players were paid – approximately one quarter of what men were.
But the landscape was beginning to shift beneath Riggs' feet.
It was the infancy of the women's liberation movement, and Riggs had a point to prove.
Women wanted equality, but to Riggs' mind, they simply were not equal. They did not deserve pay parity in the game of tennis when their male counterparts were infinitely faster, stronger and more skilled than they were.
This was no longer a matter of discussion. Riggs was intent on confirming it.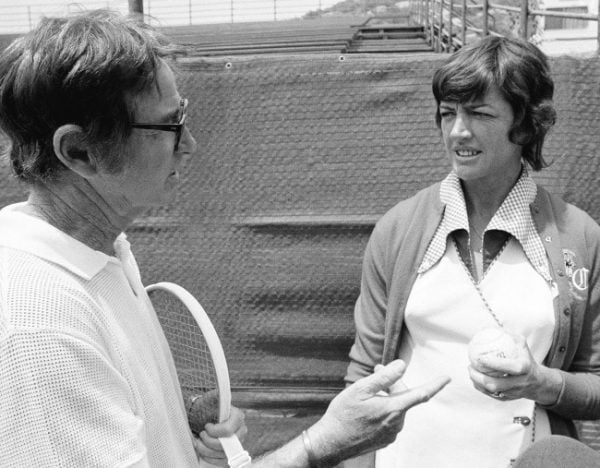 In 1973, Australia's Margaret Court was the number one ranked women's tennis player in the world. And when Riggs, in his 50s and retired, suggested they play each other, Court accepted the challenge.
The match was to take place on Mother's Day.
It is believed, 44 years later, that Court wasn't properly prepared. NPR writes, "Court, who wasn't invested in feminism... treated it as an exhibition for money," and journalist Selena Roberts argues, "She gave no thought to its social consequences. Americans were tossing bras, girdles and nylons into trash bins, but the women's movement didn't move Margaret. She was a Mrs., not a Ms."
Retrospectively, the match is referred to as the 'Mother's Day Massacre'. Court lost in two sets, 6-2, 6-1. "I didn't expect him to play like that," Court told reporters afterwards. "We girls don't play like that."