There were many times Hillary Clinton felt like crying during the 2016 presidential campaign trail that ultimately led to her defeat to Donald Trump – but she never did. At least not in public.
No matter what was said about her, she "sucked it up" and as she explains in her book What Happened, this isn't as much because she wanted to, but because she had no option but to do so.
Speaking on the podcast Longform, about her new book, Clinton said if she knew if ever shed a tear it would be pounced upon by her opponents as a sign of weakness.
Listen: Mia Freedman and US journalist Amelia Lester deep dive on Hillary Clinton's new book, and where on Earth she is now. Post continues after audio. 

"I just powered through it. I thought, 'okay, they will have no empathy if you stop and point it out. They'll think you're weak," she told host Max Linsky.
But while women like Clinton are denigrated if they cry, male leaders are celebrated for showing "compassion" for shedding tears in public.
"Men get to tear up all the time. And I've seen Barrack Obama and George W Bush and Bill Clinton and George H W Bush and Ronald Reagan – I've personally seen them. And they get points from their empathy and their sympathy and their compassion," she said.
"And when (former Congresswoman) Pat Schroeder (when announcing she would not seek the Democratic nomination for president in 1987) cried for about three seconds – she's still paying the price for it."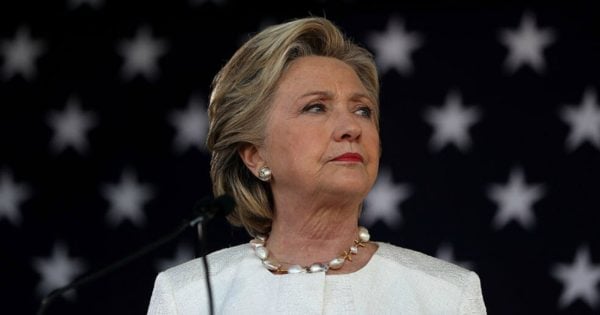 Clinton says because of this, she would always fight back tears that threatened to well in her eyes.
"I was really well aware of all of the downsides and therefore my composure and my calmness was not only because I think that's appropriate for a leader, but it was also because we still don't have a broad band of acceptable behaviour for women in public life."
What's worse is that women's bodies are working against us.
Research by neuroscientist William Frey shows that as boys reach puberty their tear glands develop differently to girls, so that men and women may experience the same level of emotion, but a man's body is less likely to produce tears.