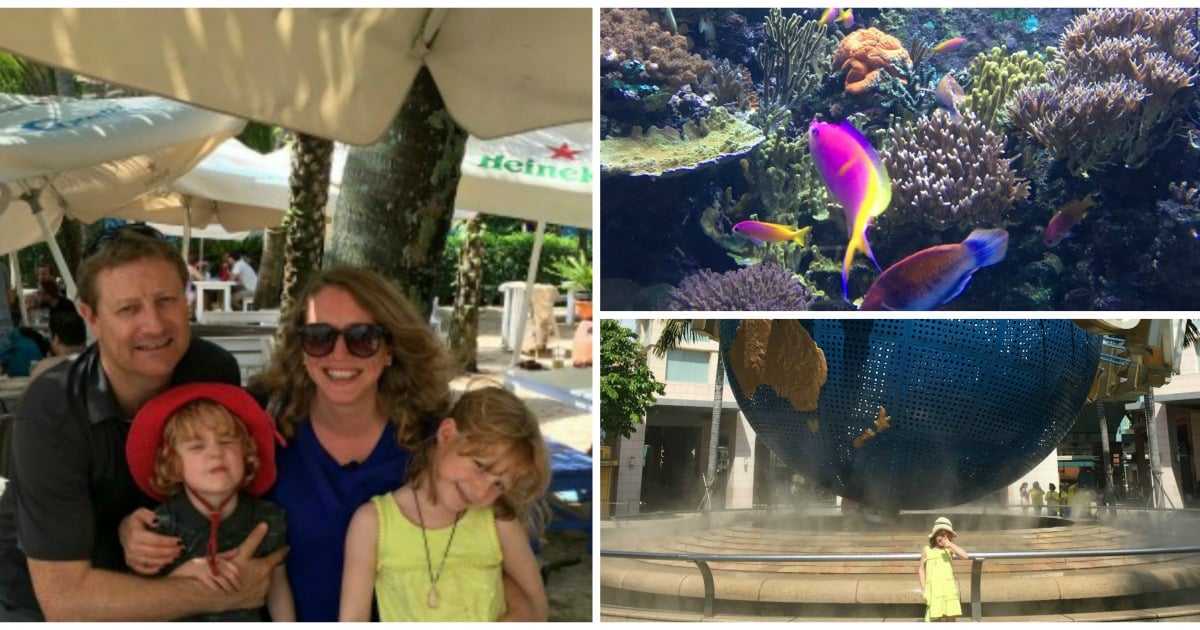 The eggs were great at Singapore Zoo. So was the toast. The juice and coffee? Spot-on. And nothing makes a tired parent's day like an excellent breakfast.
In fact, if you are designing the perfect holiday, start with the words Buffet Breakfast and the rest will fall into place.
But the trouble with breakfast at Singapore Zoo is the company. It's very, very distracting to be trying to focus on your breakfast when there's a family of orangutans sitting in the trees right next to you – munching banana palms and making eyes at your kids.
So starts the day at one of the big-ticket attractions on a Singapore stop-over. The Jungle Breakfast with Wildlife, as it's called, was one of the things we did in the place they call the Little Red Dot that my kids and I were in complete agreement about: It was excellent.
Singapore Zoo's orangutans are so famous that Michael Jackson once tempted one of them – the very famous, now-departed Ah Meng – to leave the zoo to come to have tea with him at Singapore's fabled Raffles hotel. And now I've eaten with them, I can see exactly why.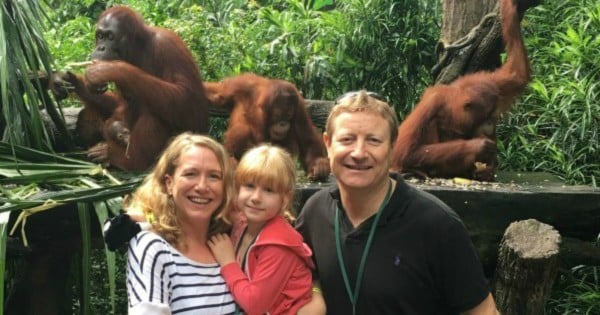 Brent, Matilda and I with our breakfast companions at Singapore Zoo. Image: supplied.
This three-day stop-over in Singapore was full of experiences that are now part of our family folklore.
Because travelling with kids is about making memories, and our banks are stocked from those few, sanity-saving days on the way to the other side of the world when we broke out of Singapore airport to see what lies beyond the seductive shopping malls of Changi.
But if you compare the lists of the favourite experiences of six-year-old Matilda, three-year-old Billy and Ssssssh-don't mention how old the old man and I are, we have some quite different things to say about our Singapore stopover.
Best experience with WOW Factor.
Matilda & Billy: Kidzania.
You have never been to a theme park like Kidzania before. Out at Sentosa Island, where more familiar attractions include the aquarium and Universal Studios, there's a truly unusual place.
Remember how much you liked playing 'shop' when you were a kid? Well, the people who invented Kidzania liked it too, so much so that they built a whole kids' town in miniature, gave it a currency and an infrastructure, a theme song and an airline, and let kids run the place. Hence, on the day I took my family to Kidzania, they flew a plane, created soap in a laboratory, made lollies in a sweet shop and pulled out some fillings as dentists in a surgery.
Everywhere they went they earned Kidzos - the currency of the park - for their troubles, and then got to 'spend' it in the special shop that only trades in those. If we'd have stayed longer, they could have had a turn putting out fires, making real-life edible Pizza Hut pizzas and delivering the mail. They could even solve a crime after joining the local CSI team. Yup, told you it was unusual.