The one beauty product I wear every day is perfume, and yet I never bring any with me on holidays. I'm convinced that precious, glass bottle of Chanel will smash and ooze all over my luggage.
Determined to smell good every single second of my life, I've researched the most travel-friendly fragrance options. Small, sturdy and splendidly scented, these genius perfume products are irresistible.
Solid perfume.
Solid perfumes are the foolproof way to smell great on the go. Similar to the consistency of a waxy lip balm, solid perfumes are made from a blend of waxes, oils and fragrance. They don't leak, and are packaged in unbreakable little tins around the size of a 50 cent coin.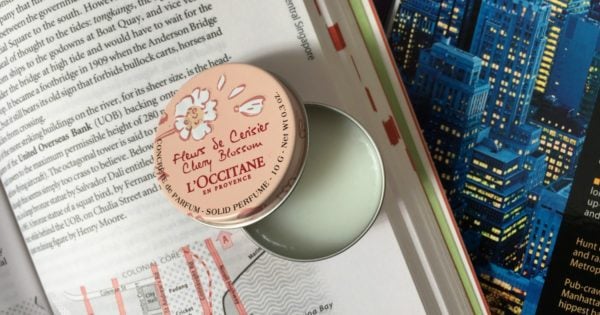 Simply glide your fingertip over the surface of the solid perfume, and then rub it onto your skin to radiate a long-lasting fragrance.
Just like a soulmate, solid perfumes are rare and hard to find – but don't worry, I've done all the hard work for you. Consider me your beauty matchmaker.
L'Occitane's delightful solid perfumes are only $16 a pop, which means you should buy both the Cherry Blossom and Roses et Reines fragrances, obviously. At the moment I have Cherry Blossom smeared on my wrist, and it's such a romantic, intoxicating scent.
Listen: Pack your sunscreen - and don't be afraid to ask for help. (Post continues after audio.)
At Mecca stores, you can indulge in scents by the luxury candle brand, Diptyque, for $56 each. The tins are to die for, all black and shiny and embossed.
Rollerball perfume.
If you love the fresh, cold feeling of applying liquid perfume, then rollerball perfumes are for you. They work in the same way as a roll-on deodorant — though, of course, they are much chicer and won't remind you of the gym.
Rollerball perfumes come in slim, glass vials, the size of test tubes, but this is an experiment that's guaranteed to work. Perhaps wrap them in a scarf or bubble wrap if you've very concerned about breakage while travelling.