A US mum has issued a warning to parents after her 3-year-old son was injured while playing at an indoor trampoline centre in Florida.
Kait Ellen says "every day is a struggle" for her little boy after he broke his leg in late June while jumping on a trampoline.
"As hard as it is to relive the past 12 days, we feel compelled to make other parents aware of the danger associated with indoor trampoline parks," she wrote on Facebook.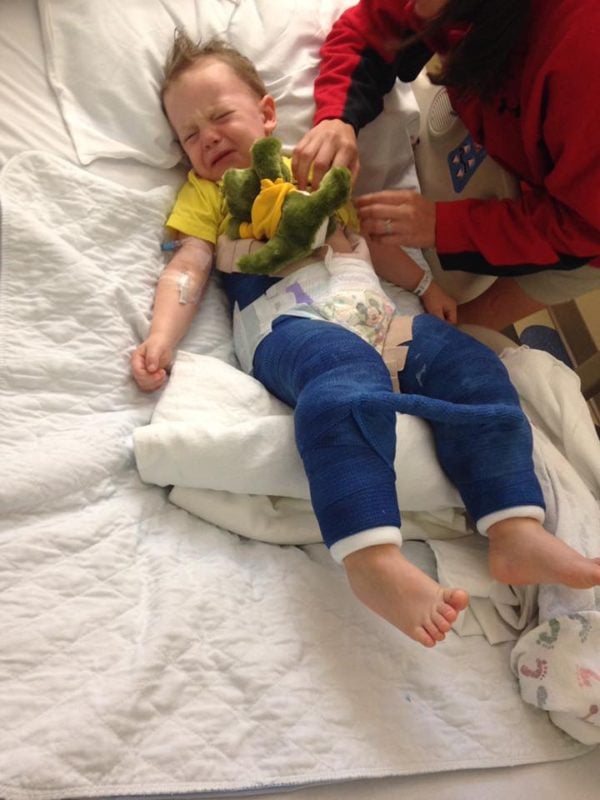 "Colton fell and broke his femur, the strongest bone in his body, while innocently jumping alongside his dad and I."
Now the three-year-old will be in a hip cast for the next six weeks while he recovers.
While certainly scary, it was what Kait and her family discovered after her little boy's accident that shocked her the most.
"According to the American Academy of Paediatrics and the American Academy of Orthopedic Surgeons, children under the age of 6 should never use a trampoline," she wrote.
A paediatric orthopedic surgeon alerted Colton's parents to the dangers during his hospital stay, telling them that a child's "fragile bones are not meant to withstand the repetitive pressure from jumping."
Kait, whose post has been shared more than 228,000 times, says she wants to spread awareness of what the surgeon told her, especially since many indoor trampoline activity centres specifically promote "Toddler Time."
"We hope by sharing his story it will prevent a child and their family from experiencing the trauma and heartbreak associated with trampoline injuries in young children," she wrote.
While Colton's injury occurred in the US, trampoline parks are becoming popular in Australia, particularly around school holiday time.
LISTEN to the latest episode of Mamamia's brilliant parenting podcast, This Glorious Mess.