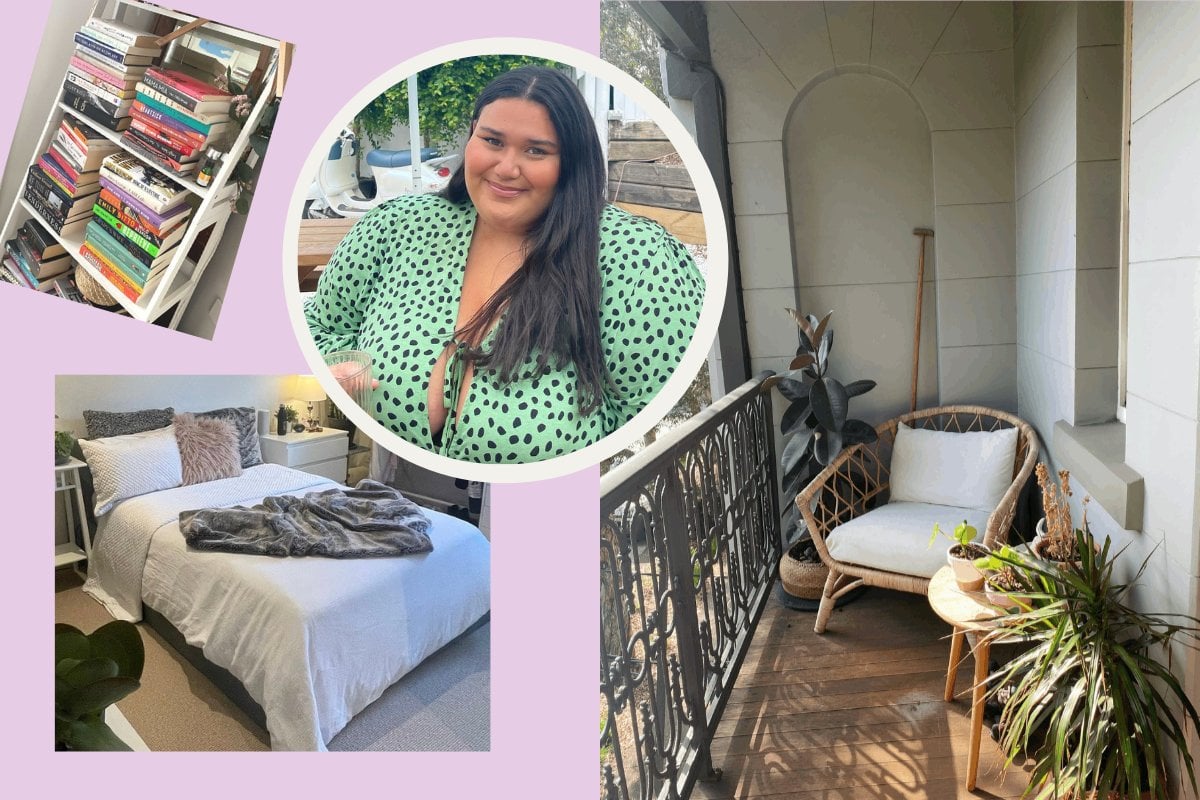 Mamamia's Share Your Space series asks everyday women to share all the juicy, specific details about their home. How much do you pay in rent? Who do you live with? Where did you get your furniture? It's pulling back the curtain on real estate in Australia, and allowing us to really see how the people around us live. This week, Mamamia's Editorial Assistant Shannen shares a look inside her sprawling Sydney rental.
Age: 23
Job: Editorial Assistant.
Rent: $1100 for four bedrooms, my share is $300 per week.
Location: Zetland, NSW.
Lifestyle: 
My family are serial renters. In total, I have lived in 19 houses in 23 years (no, I'm not joking). It's been a weird situation, and I have never valued a community as much as I do this tiny, quaint and quirky one. 
As someone who has quite literally lived almost everywhere in NSW (and a little bit of QLD), I know all too well how the lifestyle of an area can be hard to settle into - especially when it's not your vibe. 
So I am thankful that I absolutely love Zetland. Its weird quirks are charming, even the hoard of cats who live down a side alley. I'm a big fan of how everything is close to home. I love living with my best mates (Yahn, Mitch and Parker), our two cats Chi Chi and George, and I love having 10-15 friends all within a five minute drive, at any given moment.
I live in a home with three men who all identify as queer, and as such, we partake in a lot of innocuous activities on Oxford Street (Sydney's gay hotspot). My housemate Mitch is a drag queen when he doesn't work in marketing, and so if we're not on Oxford Street, we're in Erskineville cheering him on while he dances to Britney Spears.
Living in the city seems cool, but living just on the outskirts is the COOLEST. We love it, and we count our lucky stars every day for being able to live here!
So, take us inside:
I live in a four-bedroom townhouse with a disjointed garage and a studio living space above it. It's a very large home, with two lounge rooms, a massive dining area and a spacious yard. We refer to it as the 'Roseville Terrace' because that is literally its name, and it's the oldest house on the block. 
Living Room: 
We were slightly overwhelmed when we realised how large our living space was, and just how much work it would take to fill it. 
We did so by getting our TV mounted above the fireplace, adding a bunch of art, an antique chair my sister broke the last time she visited and an eight seater lounge from IKEA.