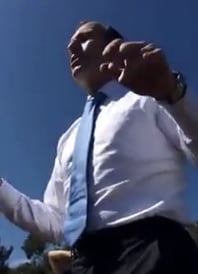 The Year 9s of Newtown High School of the Performing Arts got a whole lot more than a trip to Questacon on their recent excursion to Canberra, after they ran into Prime Minister Tony Abbott outside Parliament House.
Newtown is located in the federal electorate of Grayndler, in Sydney's inner west. It has been a Labor electorate since its creation, and is currently held by Anthony Albanese.
After asserting that Canberra is not just a boring place full of public servants (if you say so, Mr Abbott), the Prime Minister then asked the – quite rowdy – group of students if they had any questions they wanted to ask him.
And that's where things started to get interesting.
At 1:30 he is asked: "Why not go ahead with the carbon tax?"

At 2:34 he is asked: "Why are you so against legalising gay marriage?"

At 3:30 he stops the students' cheers for legalising gay marriage by saying: "Let's have a bloke's question."

Which he realises was perhaps not the segue out of the tricky questions he was hoping for when that "bloke" asks: "Why do you think that following Howard's footsteps with the Tampa and turning back asylum seekers is a good idea?"

At 4:45 his argument that the government's asylum seeker policy stops drownings is questioned by a kid asking: "But why are you towing them back into international waters, then?"

At 05:29 he is asked: "Did you know it's a human right to seek asylum in another country?" He then refuses to answer the question by saying: "That's the same question as before."

At 5:50 he is asked: "If people are so desperate to risk their lives to come to Australia, why are they pushed out when there's so much to share?"

At 7:12 he is asked: "Why is a man the Minister for Women?"

At 7:40 his statement that "people are either male or female" is refuted by one of the kids who says: "No, there are actual intersex people."

At 9:20 he tells the girls concerned about female representation in government to "join the Liberal Party".
Follow Mamamia on Facebook

At Mamamia absolutely everything is up for discussion: from pop culture to politics, body image to motherhood, feminism to fashion. We unashamedly cover what everyone is talking about today: whether that's stories which will make you laugh out loud, cover your mouth in shock, help you get informed or start you thinking about an issue in a different way. And, sometimes, we help you to just switch off the brain power from a few sweet minutes and kick back.