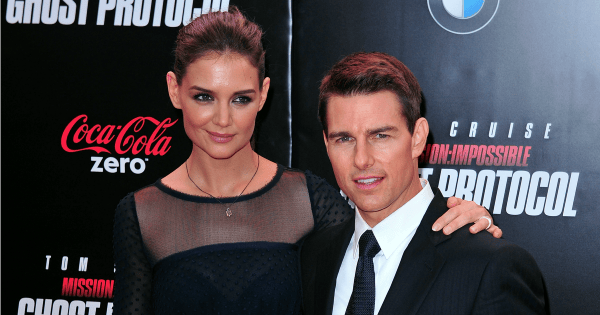 Scientology. It's religion, with a little dash of celebrity and a lot of intrigue.
The celebrity captain of the Church is undoubtedly Tom Cruise who is said to be one of the church's highest ranking members. His first wife Mimi Rogers got him into it. Second wife Nicole reportedly dabbled but stayed true to her Catholic roots. And despite converting in the first few weeks of their relationship, scientology is said to be one of the main factors in Katie Holmes deciding to file for divorce this week.
The more you read about the 'religion' (which enjoys tax-free status as a religious organisation) the easier it is to understand why Katie might want to get herself and her 6 year old daughter Suri as far away from it as fast as possible.
Watch Leah Remini discuss her fractured relationship with the church below (post continues after video).
Here are a few weird facts about Scientology:
1. Scientology was founded by a science fiction and self-help writer.
In the 1950s L. Ron Hubbard, who originally made a living as a novelist, moved into self-help books and then took the next logical step and founded a religion. Scientology is pitched as a way for people to improve themselves and their lives. The religion allows adherents to progress through various "levels" – which they must pay for. The levels involve course-work, counselling, and tasks, for which Scientologists pay a lot of money.
2. The innermost secrets of Scientology centre around an evil being named Xenu.
exscientologykids.com, a website penned by children who were born and raised in the religion, reveals that: "75 million years ago, an evil being named Xenu decided to solve a population problem on his galactic colony by exiling a bunch of people to Earth. When the souls started leaving the bodies, he captured the souls and forced them into a huge implant station and made them watch movies that 'implanted' them with false pictures of Christ, and other historical events that Hubbard says didn't actually happen."
3. Scientology was responsible for the largest case of domestic espionage in US history.
Starting in 1973, "Operation Snow White" planted operatives inside the IRS, the FBI, the Justice Department, and the American Medical Association among many others, stealing and copying tens of thousands of documents that might be useful in threatening or silencing Church opponents. It was not uncovered until four years later.