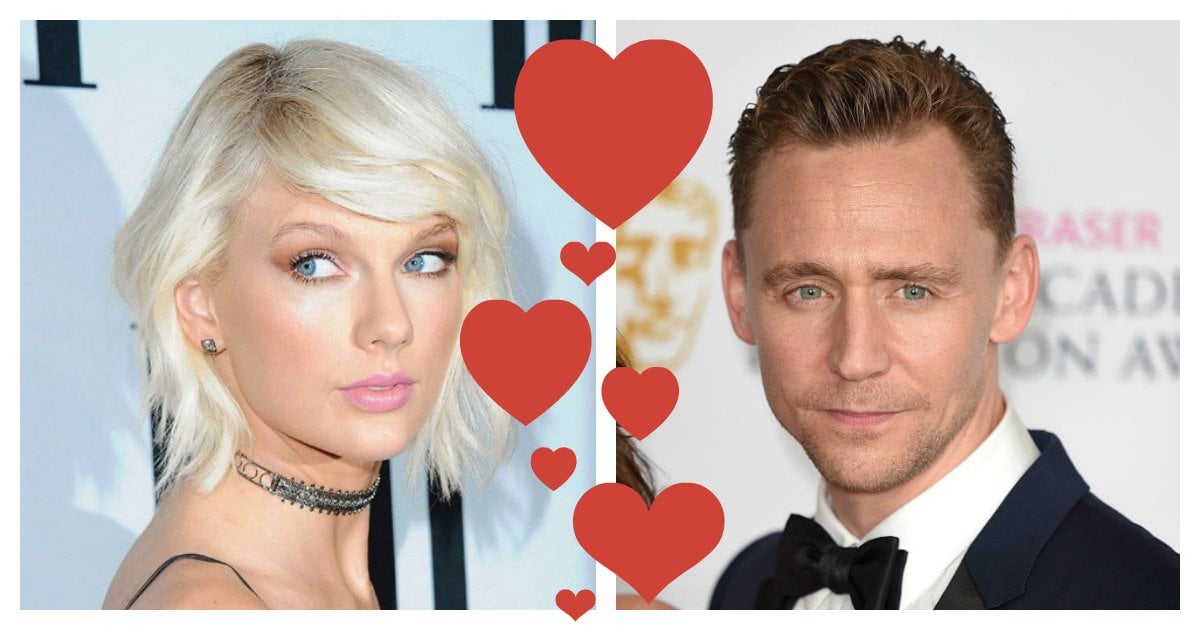 Dear Tom Hiddleston,
Really?
In case you missed it, the 35-year-old actor took his relationship with singer Taylor Swift to the next level over the Fourth of July weekend. By wearing a singlet. In the surf. Emblazoned with the phrase 'I heart T.S.'.
Tom Hiddleston declares his love for Taylor Swift with 'tattoo' and a t-shirt https://t.co/gC5gXzeoXu pic.twitter.com/AGjXzEL1EL

— Daily Mail Celebrity (@DailyMailCeleb) July 4, 2016
While it might be a cute sentiment for a pair of teenage lovebirds who are flaunting their new hand-holding status around summer camp, we're not quite sure it works for two of the most famous names on the planet.
Turns out, Twitter agrees. Since paparazzi pics of the pair frollicking in the surf – alongside Swifty's bevy of celebrity gal pals – fans have been taking to social media to voice their, ahem, concern, over where the relationship is headed. Most fans questioned the legitimacy of the affair – and we're not surprised, given the conspiracy theory that the couple are filming a long-form music video.
tom hiddleston wearing an "I <3 T.S." tank top. at what point does this become performance art pic.twitter.com/sC9dsNlPZu — Allie Jones (@allierileyjones) July 4, 2016
I really think the Taylor Swift /Tom Hiddleston thing could be a music video.
In fact as a screw you to the media I hope it is.

— Gem (@TattooedTruffle) July 4, 2016
Becoming increasingly convinced that Tom Hiddleston and Taylor Swift are pulling a Joaquin Phoenix I'm Still Here style prank on us. — Nick Reilly (@NickJWReilly) July 4, 2016
Some were concerned that this relationship is moving way too fast, and that the pair are unhealthily attached at the hip:
If my boyfriend went swimming in a tank top that said, "I ❤️AB," the talk later at home would be all, "I need u 2 cultivate ur own life."

— Aidy Bryant (@aidybryant) July 4, 2016
Others bought into TayTays 'crazy girlfriend' persona (a la Blank Space music video):
Who thinks Taylor Swift made Tom Hiddleston the "I heart TS tank" ? — kelly oxford (@kellyoxford) July 4, 2016
Others debated whether the James Bond hopeful could ever return from being reduced to 'Taylor Swift's arm candy':
I just don't think Tom Hiddleston can come back from this.

— house of snarks (@houseofsnarks) July 4, 2016
I can only assume Tom Hiddleston lost some form of bet — Mike Mc Loughlin (@zuroph) July 4, 2016
Hiddleston pics on the beach remind me of Ross Geller on spring break with Elizabeth ???????????? pic.twitter.com/FmoHaImV3Y

— Monica (@MissLadySkylar) July 4, 2016
Whatever the reason behind their relationship – and hey, maybe they're the real deal – there's no denying that Hiddleswift is a word that's on everyone's lips.
See some of Taylor Swift's best moments.