It was meant to be a heartfelt acceptance speech paying tribute to those who work hard to make the lives of people living in South Sudan better.
But, that's not the way the world saw it, and Tom Hiddleston has been forced to issue an online apology after he was mocked mercilessly online.
After thanking those he worked with on The Night Manager, for which he won the Golden Globe Award for Best Actor in a Miniseries/Television Film, Hiddleston said he wanted to tell the audience a "quick story".
"I recently went to South Sudan…with the United Nations Children's Fund…there's a terrible situation happening for children," he said.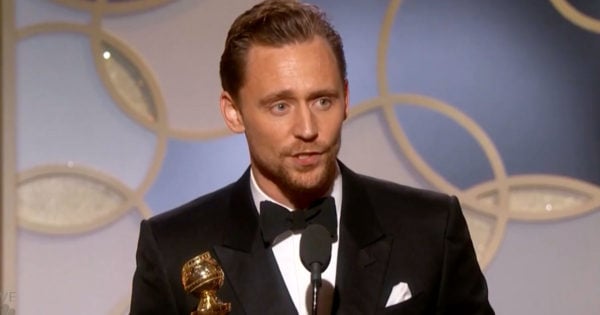 He then revealed that a group of Médecins Sans Frontiéres doctors had approached him one night to tell him that they had binge-watched The Night Manager one night when they were forced to stay indoors.
"The idea that I could provide - or that we could provide - some relief and entertainment for the people who worked for UNICEF ... who are fixing the world in the places where it is broken, made me immensely proud," he added.
See more of the Golden Globes highlights here. (Post continues after video.)