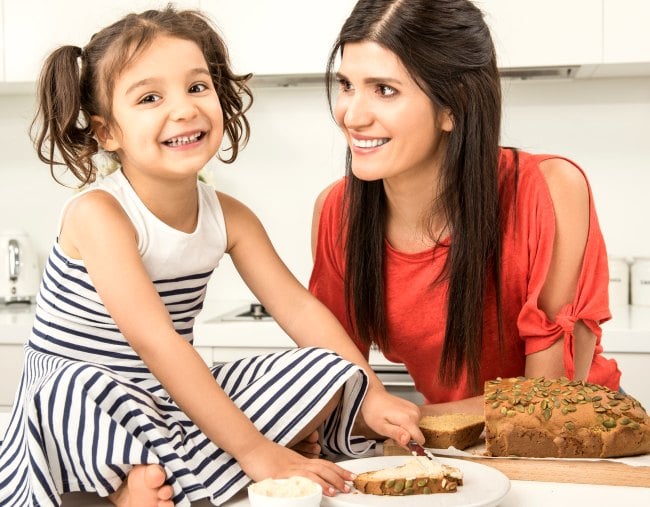 Cheese sandwiches will always be a popular favourite amongst young children. Whether it's for lunch or just a snack, little ones and adults alike can all appreciate how tasty a cheese sandwich really is – or better yet, a toasty! But, did you know that some cheese sandwiches can contain more than 2 grams of salt, which is the recommended daily intake for children under three?
The most common cheese sandwich combo I see from my clients, uses white bread with a smothering of vegetable oil-filled margarine and a high-sodium processed cheese, sound familiar?
Compare that to wholegrain bread or sourdough bread with a spread of avocado and a low-sodium hard cheese or a white cheese such as ricotta or even goats curd, and already you can see how some simple swaps can create a different feast altogether.
The Wholesome Child teaches us how to make a healthy chocolate spread that's delicious and super easy to make.
As a nutritionist, I'm incredibly passionate about the fact that health is all about a journey. Especially when it comes to children, it's important to take small steps towards change so as to not overwhelm little taste buds with new flavours all at once. That's why I created the 8-step family nutrition program that you can find in my book, Wholesome Child: A Complete Nutrition Guide and Cookbook, all about easy steps you can slowly introduce to greatly improve the overall health of your family.
When we make simple swaps, we can also start to slowly increase the variety in a child's diet. Many of my clients who struggle with fussy eating tend to resort to the same few foods that their child enjoys – like a cheese sandwich, for example! But, once you start to make small changes, the door opens to a wide variety of nutrient-dense foods that you can slowly but surely begin to introduce.
Remember, the journey to a healthy and varied diet is a marathon, not a sprint.
These are my top simple pantry swaps that will help boost your family's health and start to increase variety too…
Bribe your way to a better morning routine: Join Holly and Andrew as they take you through the ultimate back-to-school bootcamp on This Glorious Mess. Post continues after audio.
1. Bread.
All those breads on the shelf are the same, right? In fact, there are plenty of nasties that could be hiding right under your nose that you miss every single day. Most breads that you can pick up at your supermarket are highly processed and contain a range of sneaky ingredients such as added gluten, vegetable oils, sugar, sodium and even preservatives.