Tiger Lily was just 16-months old when her father, INXS front-man Michael Hutchence, took his own life in a Sydney hotel room in November 1997.
By then the world had already come to recognise the little girl, often seen perched on the hip of her British TV host mother Paula Yates.
Hutchence and Yates were international celebrity royalty, appearing on the covers of magazines, front row at fashion shows, parties, everywhere.
Yates had three young daughters with legendary Irish Boomtown Rats singer, Bob Geldof or 'Saint Bob' as he became known. Geldof was the man behind the 1985 Ethiopian famine relief concert, Live Aid, and Yates was the woman who left 'Saint Bob' for a younger rock icon.
The world was fascinated by this scandalous love story and the new baby: Heavenly Hiraani Tiger Lily Hutchence.
But only three years after Hutchence was found dead in his hotel room (which Yates claimed was auto-erotic asphixiation gone wrong, not a suicide), friends became concerned for Yates' well-being when four-year-old Tiger Lily answered the phone. Yates was later found dead in her Notting Hill home from an accidental drug overdose.
Tiger Lily was now the rock n roll orphan, the famous little face at the centre of the UK's deadly heroin epidemic.
Seventeen years on, this Saturday, Heavenly Hiraani Tiger Lily will turn 21.
On that day the young woman, who was raised and ultimately adopted by Geldof so she could be with her half-sisters, stands to inherit millions.
According to The Sun, Tiger Lily will be granted access to a trust left by her father, a trust that has been topped up by a slice of the royalties the rocker's work has accumulated over the last two decades.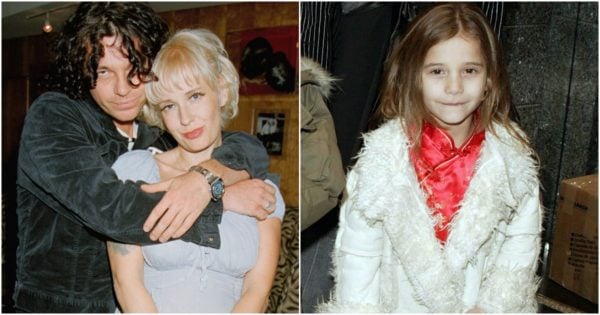 But it's not expected that this Saturday will be marked by an extravagant paparazzi-haunted party, nor by boastful social media updates.
Because while her adopted siblings, especially singer Pixie Geldof, chose the spotlight, the 20-year-old has largely shied away from it.
In fact, little was seen or heard about her through her teenage years, although it's believed that at the age of 18 she moved across the pond to New York to study drama.
Sadly, it was yet another tragedy that thrust her back into the public's gaze in 2014. The death of her half-sister, 25-year-old model Peaches.
But lately Tiger Lily is going public in her own terms. The above photograph is just one in series Tiger Lily appeared in for famous British photographer, Kate Bellm last year.
In one, shared to Instagram, she embraces another woman underwater.
In another, she floats, naked, eyes closed, arms stretched out above her head.
She'd barely be recognisable, if it weren't for that face. The face of the little girl everyone came to know 20 years ago, that today is still the spitting image of her famous dad.