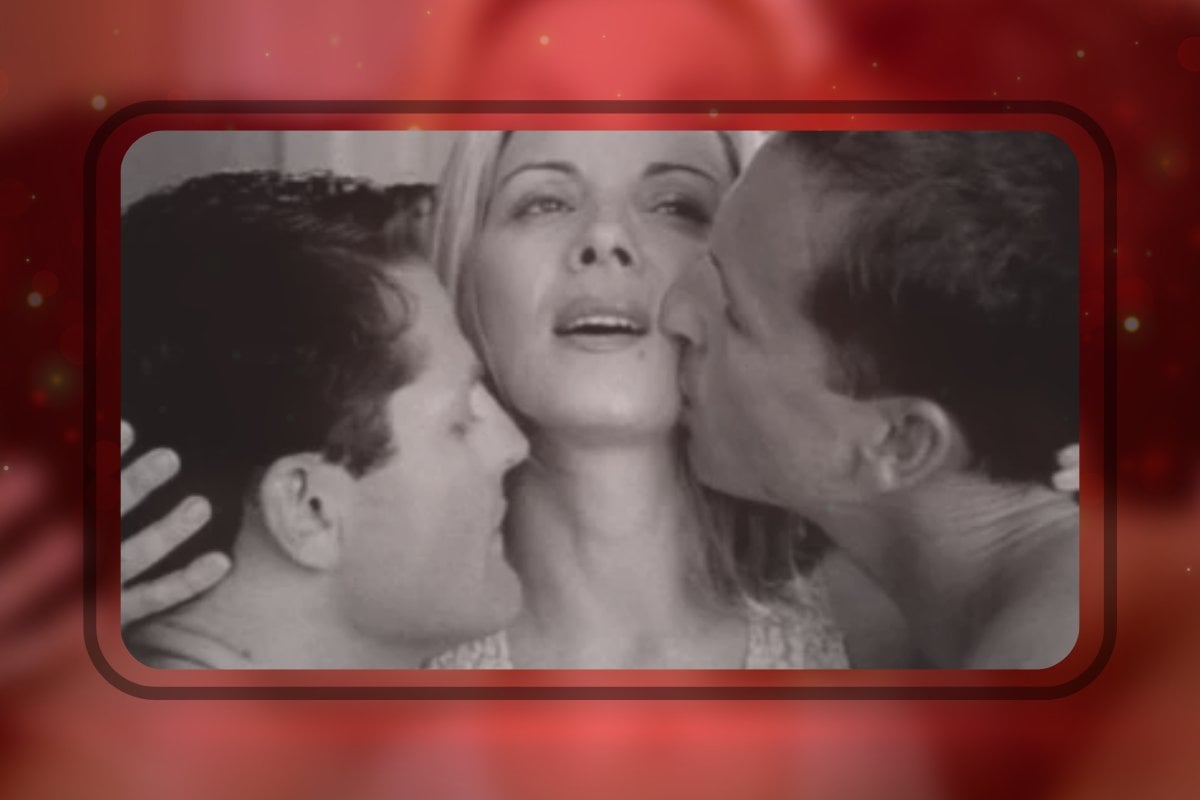 It seemed like a great idea.
Three of us, young, adventurous... Okay, drunk. We were drunk.
We were away at a beach house with a big group of friends for, let's be honest, a week of solid partying. (We were in our 20s after all – very few cares, even fewer responsibilities.)
Them, friends of mine for years, since high school in fact – a couple since they'd been 16. (Aww.)
Me, a single girl keen to give anything a go after a couple of drinks.
Smoke hung in the air, cheap vodka coursed through my veins – and the anticipation had been building all week.
On night one of our holiday, Alice told me as we were enjoying a wine after dinner that her boyfriend, Tom, had subtly expressed interest in a threesome.
He'd also hinted that she should ask me to be the third wheel, Alice said – and yes, she was on board if I was.
Obviously, I was flattered. I mean, who wouldn't be, right? How nice to be included! How thoughtful of them to ask! Plus Tom was hot. So was Alice. We were all friends, after all, already close.
Tom and I had been partnered in a class during our final year of high school, forging a bond that had held up over the years. Alice and I had been besties for just as long. Why the heck not?
And so it was decided.
All week, Alice and I would giggle in various corners, her telling me how excited Tom was for our little tryst, both of us laughing at – frankly – the weirdness of the whole situation.
"So… if we're really going to do this, when is it happening?" I asked her one afternoon as we lounged on towels, side by side on the beach behind the holiday houses.
It definitely felt like a vacation romance kind of vibe (minus the… actual romance), and not something to attempt when we were all back in reality, so I figured the sooner, the better.
"Tom thinks we should do it on our last night here," Alice replied, shifting from her back to her front, untying her bikini top.
The boys in the beach house Tom was staying in were hosting a big party to send off the epic summer holiday and it was set to be WILD.
Now at this point, I feel I absolutely MUST mention that, while Alice and I had done a whole lot of whispering and snickering and pseudo-planning about our upcoming sex adventure, I had yet to speak to Tom – and the three of us had definitely not all had a conversation about it together.
(You know, the kind of convo you might expect would be a good idea before having a threesome with people you know? Idk.)
Sure, he was being a bit flirty – shooting me lingering looks at the beach, brushing my hand when we were all down at the pub for dinner, buying me drinks…
And I KNOW what you're thinking, but no, he and I didn't sneak off for secret sexy times alone. That's not what went horribly wrong.
So the final day of the trip – aka The Day Of The Party aka The Day Of The Super Sexy Threesome – arrived. And there we were, the three of us, on a couch, getting handsy. As the night was winding down, couples were heading to discreet corners and Alice, Tom and I headed for a bedroom at the back of the house.
We made our way onto the bed, Tom stripping off his shirt and looking, let's be honest, pretty heckin' eager. Alice and I were… still giggling. Because, of course we were – this was hilarious and ohmygod were we ACTUALLY going to do this?
Tom put a hand gently on the back of each of our heads, guiding us together until our lips met and I discovered in that moment exactly how difficult it is to have a good old makeout sesh when you simply cannot stop laughing.
We tried, LORD we tried. Alice and I did our best impression of sexy people doing sexy things. Blame it on the completely platonic nature of our friendship, blame it on the drinks, blame it on that sweet smoke that was *mysteriously* hanging in the air...
But there was nothing spicy about this moment, friends.
And oh, how I wish I could tell you that we all shrugged it off, shook hands and went to sleep but, no. We persisted.
Finally, Alice and I managed to lock lips without bursting into fits of laughter and it was approximately this point that Tom whipped off his pants. (Cue more giggling from me because ohmygodthatismyfriendsdickandwhatisgoingON?)
And shoutout to Tom, who wasn't fazed by my laughter at all.
What he did take issue with was the fact that, by this point, Alice and I were getting much more into each other. Poor Tom was feeling left out.
So left out, in fact, that he whined, "Well I can see I'm not wanted," grabbed his pants and stormed out of the room.
BUT IT GETS BETTER, FRIENDS.
Alice ran after him, I heard a hushed argument from the hallway, then she dragged him back to bed.
Let's get serious now, guys, we're meant to be having a super-sexy time over here.
Tom placed a hand on the back of my head, drawing me in and pressing his lips against mine.
Which Alice… wasn't too keen on.
(Honestly, I wasn't feeling too great about it either because it was at approximately this point that I realised that, while I could appreciate Tom's toned physique, he was and always would be more like a brother than a bang buddy to me. Ew.)
Alice got up and ran out of the room, crying.
Tom jumped up and chased after her.
I – embarrassed, confused – yelled after them.
"Guys, don't leave me here alone!"
Which is exactly what they did.
Sigh.
Left to my own devices, I stared around the room, now bathed in early morning sunlight. The rest of the house was silent, the party long over – and I had no idea where Alice and Tom had gone.
So I did what any rejected third wheel would do. I put my dress back on, walked out the sliding door and down the path to the beach.
Where I sat.
And promptly fell asleep.
On the beach.
By myself.
Asleep on the beach.
Disaster.
(I did manage to cover my face with my jacket, so while I would've looked alarmingly like a corpse to anyone passing by, I was at least giving a gentle nod to sun safety?)
I woke up I don't know how much later (maybe half an hour – the beach was still deserted and no strangers had come to check I was alive) to find Tom sitting next to me.
"Hey Sal," he murmured, seeing me looking up at him. "You okay?"
I told him I was; asked if he was too.
"Is Alice…"
"Yeah, she's fine," he said. "We just wanted to make sure you were okay."
Which is really sweet, actually – and the sign of a good, solid friendship.
One that arguably we should never have even attempted to twist into something spicy, but heck, you've gotta try these things to know, right?
See, what I found out later was that, Alice and Tom never actually TALKED about the whole thing. Each of them thought it's what the other wanted, and were going along with it to make the other one happy. Not the best foundation upon which to build a sexy three-way scenario, it turns out.
The good news is, it didn't ruin their relationship or our friendship.
But it did ruin my interest in attempting another threesome in a hurry...
Feature image: Getty, Canva.
Unlock unlimited access to the best content for women