Holy MOLEY we can't believe we're at the finale.
We're so excited we just don't quite know what to… do. Tonight, Georgia Love will choose between 35-year-old Lee (the one with the face), and 28-year-old Matty J (who also has a face).
Strangely, Sportsbet also has a third potential winner listed, tipped at $51.00.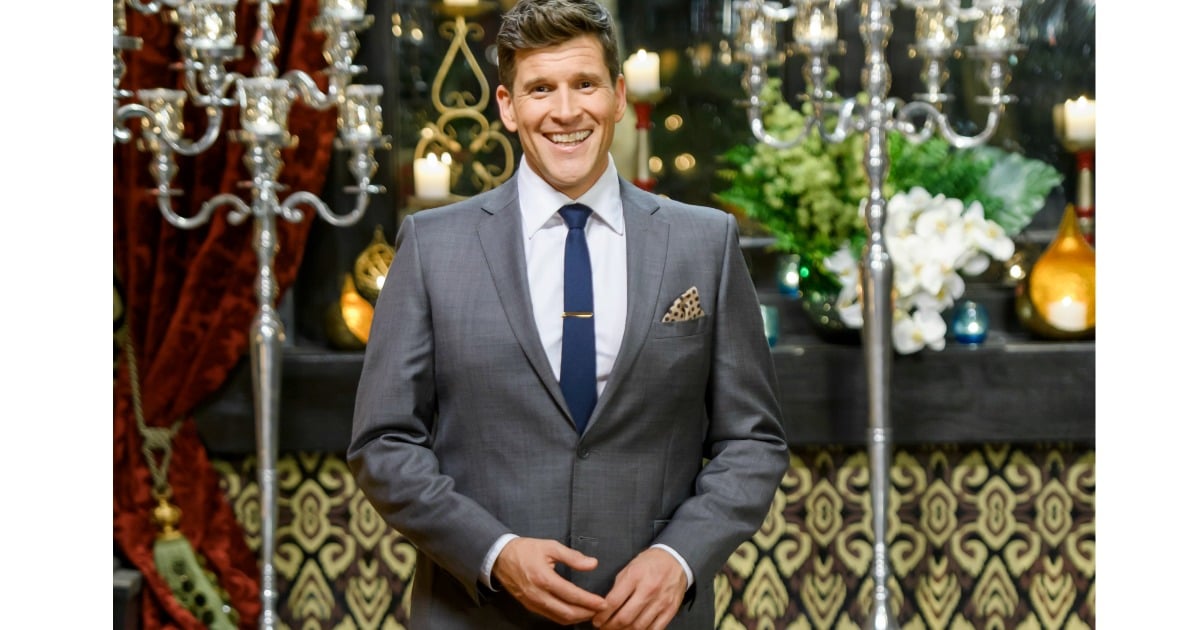 EUGH we don't have time for your decoys, Sportsbet.
We open with Osher introducing us to this very special evening.
OH GOODNESS! They're in the future! They've all been flown to Singapore for Georgia to make her final decision, and Osher is very excited to have been invited.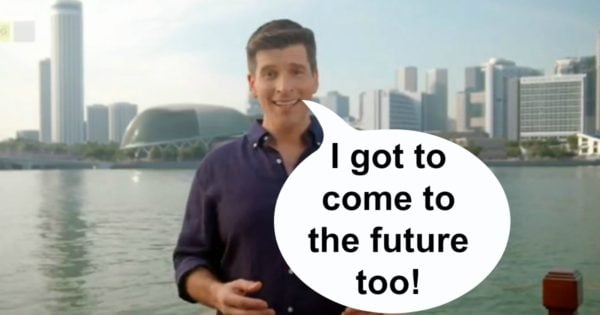 But... wow. Lee and Matty J are flying Scoot. It's not that we have anything against Scoot airlines, it's just that like... we flew with them to Thailand because they were, ahem, "affordable".
Oh GOD, they're flying economy. We knew the ratings weren't great but come on — this is the finale.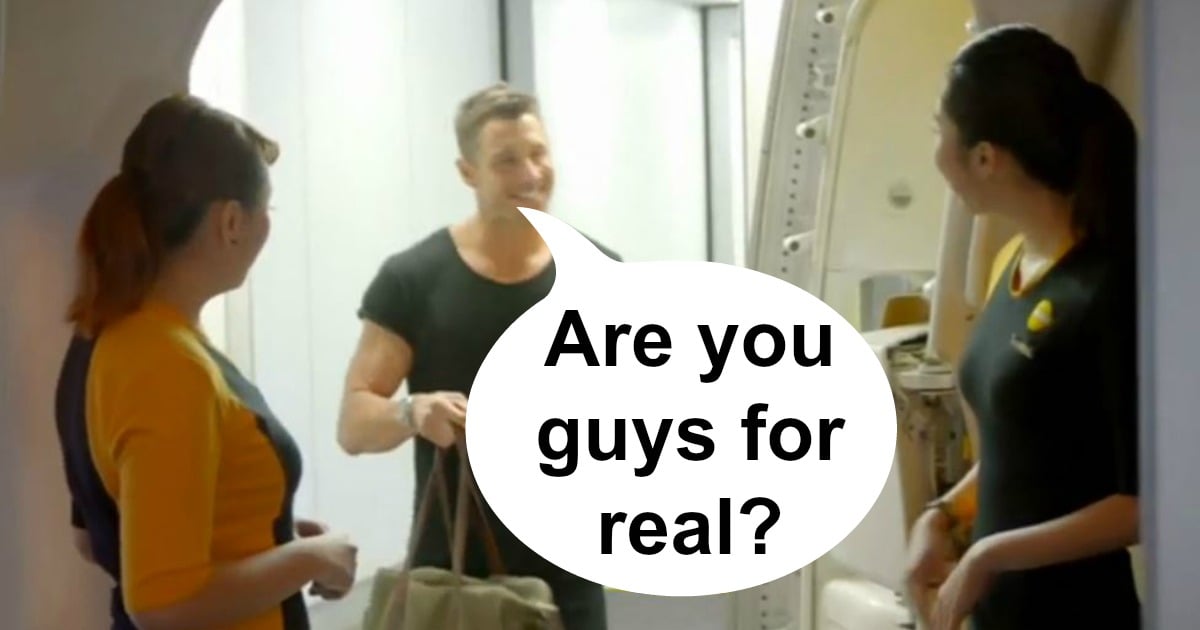 Georgia meets up with her family in Singapore. Her mum is sadly too sick to attend, but her dad (AKA Dr. Love) and her incredibly sassy sister Kate are here to help her make her decision.
Matty J is first up to meet the fam and THANK HEAVENS Georgia has dropped the J and started calling him "Matty". It's about time, given there has only been ONE MATTY for half the season. And no one even knew the other Matty's name was Matty. EUGH.
It doesn't take Kate long to get straight to the question that's been on everyone's lips: "So, how are you with cats?"
Georgia realises she actually hasn't asked Matty that question yet and it's very important. He says he's pretty good with animals and assures everyone he doesn't have any allergies. Cool.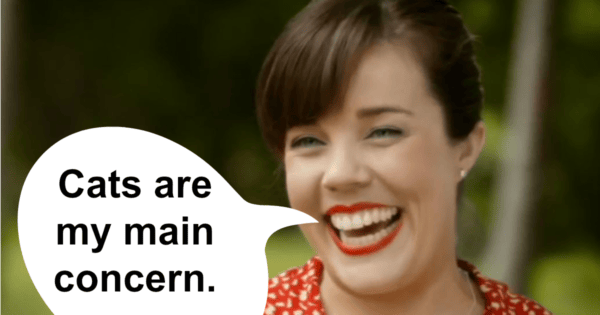 It becomes increasingly clear that Kate is a producers dream and we just don't know where Georgia has been hiding her this entire season.
When Georgia asks Kate for her genuine opinion on Matty, Kate pretends she really doesn't like him and just isn't "getting a good vibe." But then she says JOKES and it's actually pretty funny. That's what family are for - trolling you on national television.
It all goes relatively well, except Georgia's dad isn't convinced Matty is prepared to drop his entire life immediately and move to Melbourne tomorrow at 3pm to be with his daughter. This is problematic.
Now it's Lee's turn, and he looks bangin' as always. But we've realised there's one major flaw when it comes to Lee:
WE CAN NEVER HEAR WHAT HE'S SAYING.
Lee. Can you please SPEAK UP. I mean, dude, most of the time it doesn't matter because we can just look at your face, but now things are getting very serious and we want to be sure you are... you know... verbal.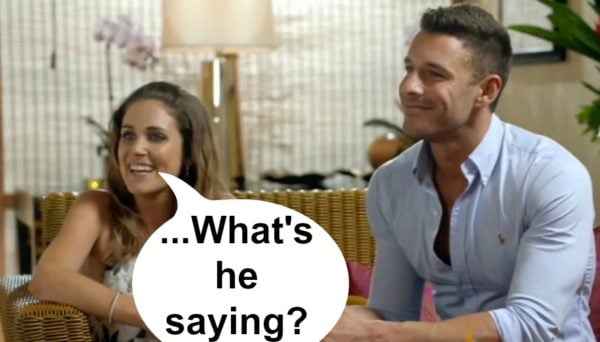 Georgia's dad says immediately, "There appears to be more of a physical connection", which is exactly what we hope that our dad never, ever says to us about a guy we're dating.
Lee talks about how he's a mechanical plumber, and explains "I'm more of a hands-on person."
Georgia rips off her dress and yells "GET YOUR HANDS ON ME, SIR" and it's a super inappropriate move to pull in front of her family. 
After that awkward encounter, Kate takes Lee away and tries to untangle his complex web of cliches. She fails. He just keeps saying things about love and life and risk and adventure and SO MANY WORDS THAT MEAN SO LITTLE THINGS.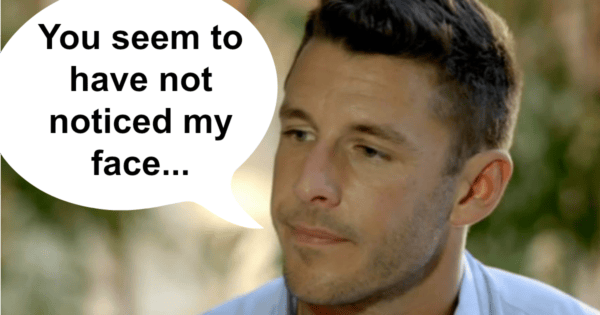 When Lee returns from his chat with Kate, Georgia asks him to leave please so they can all talk about him. Kate essentially says "that dude is full of it" and Georgia's dad says "eh, at least he's full of it in Melbourne," and we swear, if we hear the word 'Melbourne' one more time we will scream.
PEOPLE CAN MOVE. TO OTHER PLACES. OVER TIME. ONCE THEY'VE KNOWN EACH OTHER FOR LONGER THAN SIX WEEKS. THAT SHOULD NOT BE A DEAL BREAKER — AND IF IT IS, WHY DID GEORGIA CHOOSE TO GO ON A SHOW WITH HEAPS OF GUYS FROM ALL OVER AUSTRALIA AND ONE GUY WHO APPEARED TO COME STRAIGHT FROM ITALY.
Now it's time for Georgia's single date with Matty — but, you know, he's not from Melbourne so what's the goddamn point?
They find a bell and write their names on it, and we can't help but think this will be really sad and incredibly messed up if he loses. He then says, "I think she feels the same way as I do"... and it's all feeling very Nikki Gogan.
Don't you dare Channel 10, don't you dare. 
Matty makes funny jokes, and they do a flying fox and we find ourselves thinking, 'Man, this looks fun. We should really go to Singap...' But HANG ON. That's what they want us to think...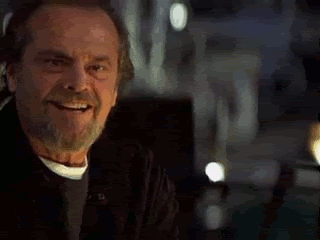 Matty and Georgia sit in a garden with some butterflies, and Matty is painfully articulate about how much he loves her. Everything is perfect - except the feeling gnawing away at us that it's too good to be true. They kiss and it's so hot that all the butterflies start mating.
This is a highly intense Thursday night.
Matty says that "it doesn't feel the end, it feels like the beginning" and he'll "be devastated" if she doesn't choose him. Just from the sheer amount of time Channel 10 is spending on this we know something awful is going to happen. It's like when you're watching a movie and two characters are having a heated conversation in the car without looking at the road. You just KNOW that another car is going to T-bone them and someone is going to die.
Now it's Lee's turn, and he looks so much like an Abercrombie and Fitch model it hurts.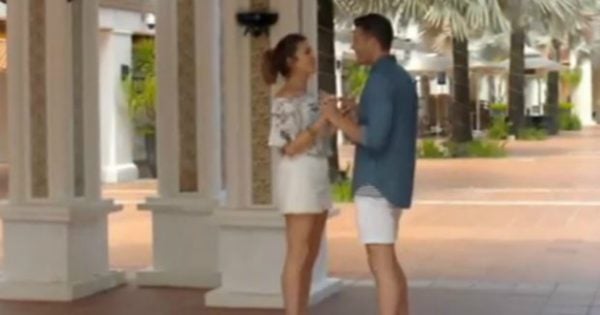 AH IT'S SO HARD. Because we love Matty... but then Lee's face... It's a tale as old as time.
Because they got a free trip to Singapore, Georgia has to drop in random Singapore facts every three minutes. We learn things. Singapore is very "multicultural" and despite the fact that it's, like, the most futuristic city in the world, Georgia and Lee ride on this very "traditional" contraption.
The driver (rider?) is clearly thinking, 'Eugh take your tourist photos and get out.'
They have a very romantic day and can't stop gushing about how much they love spending time together. Georgia takes Lee to that fancy hotel in Singapore with the pool that goes over the edge. It's hectic. Yet again, Lee defaults into his cliches and cheers' to "an unforgettable setting with an unforgettable girl" and reflects "it's almost like I've known her for years."
EUGH. Except you haven't. You've known her for a few weeks. Jeez, just say something weird for once.
We should pause, however, to say Lee does indeed seem like a genuinely lovely person. No matter which man Georgia rejects tonight, we'll feel as though she's just kicked a small, helpless puppy. That's why we've been full on emotional eating for the entirety of this episode.
Lee finally tells Georgia he's falling in love with her AND he has his shirt off. Just like Matty J.
Right now this is our, and Georgia Love's, dilemma: How does one say no to this face?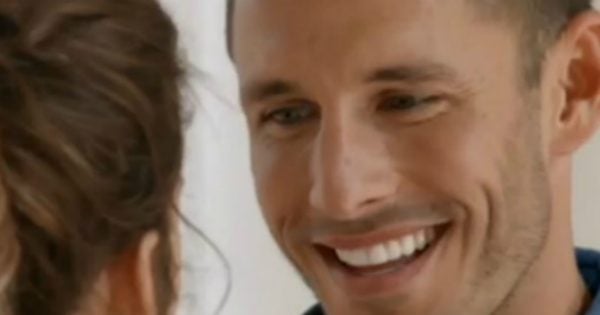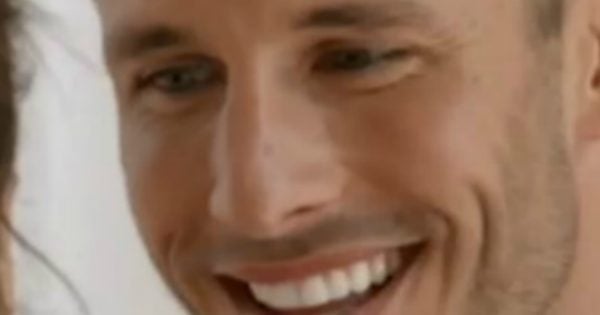 Eugh. Such a good FACE.
OH GOODNESS, IT'S TIME.
It's the FINAL rose ceremony. Well this came along very quickly, didn't it. We were sitting here lost in Singapore and then all of a sudden we're about to witness a woman choose between an adorable baby seal and a silly playful piglet. Someone is going to be really hurt, and Australia is not emotionally strong enough to deal with it.
THE TENSION IS BUILDING. The boys are getting their makeup done. Doing up their ballgowns. Strapping up their heels for the last time....
We see both men get dressed and their bodies are... well...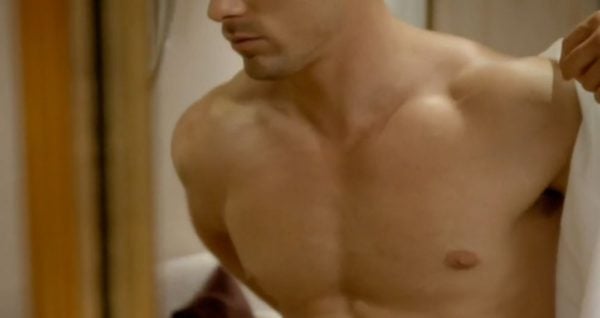 Georgia meets Osher at the hotel and tells him she's "fallen madly in love". Osher looks like a proud father.
WE ARE ACTUALLY SWEATIN'.
We see Matty travelling in the limousine and he says, "I feel sick I actually feel like I could throw up" and SO COULD WE.
Who will be first out of the car? Who's high-heeled shoe will we see first? Because they are always the loser. Always.
An ominous limo is travelling through the city and we don't know who is inside and we don't like uncertainty. It parks. It's parked. The door opens. A head pops out.
NOOOOOOO.
NOOOOOOOOOOOOOO.
NOOOOOOOOOOOOOOOOOO.
NOOOOOOOOOOOOOOOOOOOOOOOOO.
IT'S MATTY AND OUR HEARTS ARE BROKEN.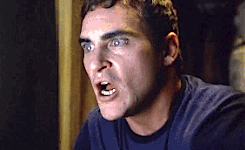 We cannot. We can't.
HOW COULD YOU, GEORGIA?! WE WERE ROOTING FOR YOU. WE WERE ALL ROOTING FOR YOU. AND NOW YOU'VE JUST KICKED A NEWBORN PUPPY WHO JUST WANTED ITS MOTHER.
Georgia tells Matty she's found love — just not with him.
The things he says. There are tears. Real tears. He literally gasps in excruciating pain. You can HEAR his heart break. He says he came here to find the love of his life and he found it. He then genuinely wishes her and Lee all the best... before hugging her and saying, "I really don't want to let you go."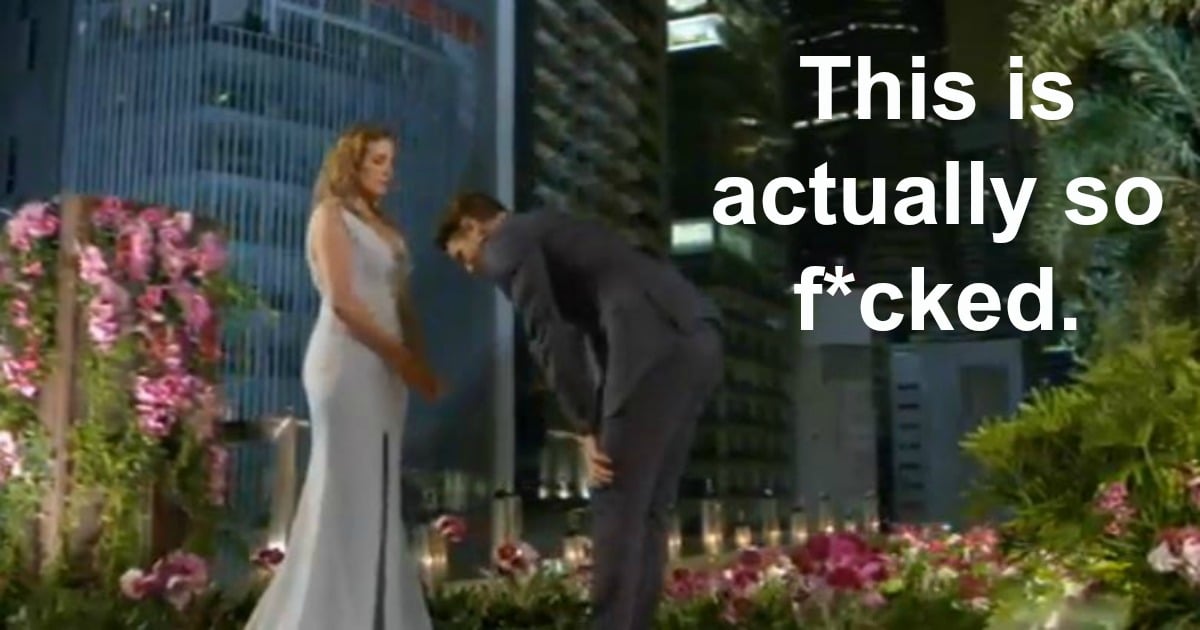 This is by far the most raw, heartbreaking rejection we've ever seen on any season of The Bachelorette or The Bachelor. It might even... we think... we think Georgia may have out-Richie'd Richie.
We're not coping. First we feel profound sadness. But then something else kicks in.
Jessie: OMG MATTY J PLS CALL ME. I (THE SINGLE TWIN) AM HERE FOR YOU. I WANT YOU TO BE MY BF PLEASE AND POSSIBLY MY LIFE PARTNER. PLEASE. I'M SO SINGLE. I HAVE NO ONE. I'M SO ALONE.
Clare: Dude, stop.
We can't even watch Lee. We can't. But we do.
She says things about loving him and bla bla bla but we can't hear anything over our loud sobbing.
They love each other. They kiss. We can picture the Instagram snaps. You know, with his face. 
There is nothing left to say. Well... except for 10 things:
Matty J, here is my (single twin Jessie, yeah hi) phone number: 0423844011. Some would say it's wildly irresponsible to put your very real phone number on the Internet. Others would say it's #brave.
What you doin' tomorrow night?
You can follow Clare and Jessie Stephens on Facebook here.
Listen to the Bach Chat team as they dissect last night's episode, and interview ex-contestant Rhys: