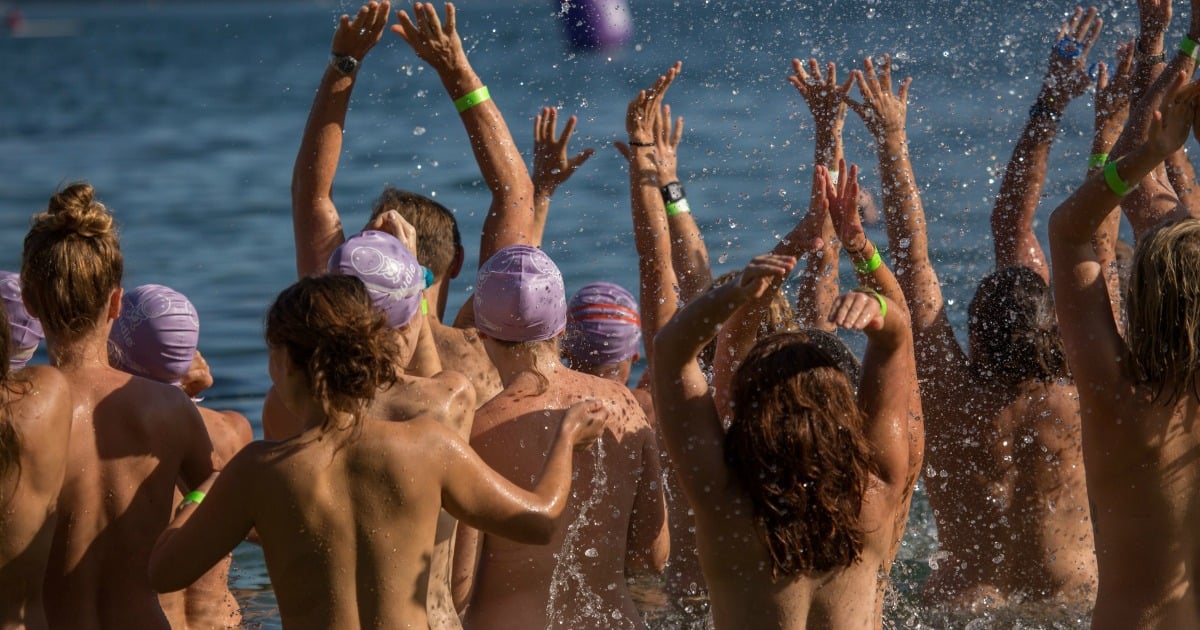 Swim naked in public? 'Of course you would' is the response I get.
Last year I dared to bare all in The Sydney Skinny at Cobblers Beach. The result of this challenge was an influx of self-confidence in my body image. An unexpected surprise was that I had such a good time, it almost killed me.
I'm not an exhibitionist, quite the opposite. I've spent most of my life going to great lengths to ensure my skirt was hemmed to a position on the low side of 'flirty' and safely toward 'proper'. On the odd occasion it upped to 'cheeky', but never 'provocative'. Cleavage was something a butcher has. I am an unlikely candidate for a mass nude anything.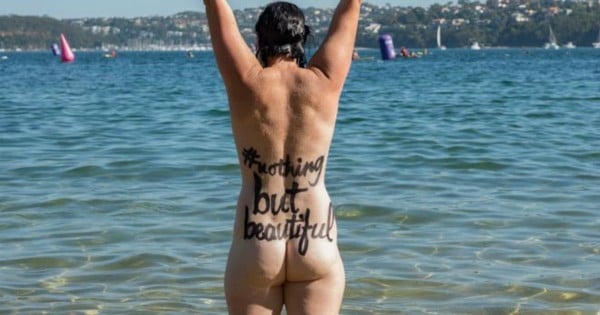 I do possess a unique gift, and that is that I am bold.
Extremely bold, based on unshakeable self-assurance and it's an attitude that I've chosen to live by. My friends call me frequently like an impromptu helpline when they need to muster some courage to deal with some challenging situation. "What would you do Drew?"
It's because of this boldness that I hear the reply 'of course you would' when I explain what The Sydney Skinny is all about. Public nudity should be right up my bold, audacious alley. Not so.
Watch: Drew Wade encourages everyone to join the Sydney Skinny. 
One morning, my equally modest European swim coach Pia nervously asked me to enter a nude swim with her. My reptilian brain fight-or-flight survival center auto-answered NO!/No, thank you. Why was she was doing it? In her thick German accent she replied "for the psychological challenge". Nudity is definitely not my thing, but a psychological challenge? Dang. She had me. We entered online. We told no-one.
So, standing on the shoreline, preparing for my transcendental out of body experience (okay, garmentless experience), I had wide-eyed paralysis of heightened self-consciousness that would un-zen any guru. You forget to breathe while you awkwardly 'layer off' (strip seems a tad distasteful) and then run with childlike nakedness, plunging into the water to drown out the voices in your head that are bellowing "EVERYONE CAN SEE YOU". As you dive in you are met with a stunning orchestra of moving body parts, a kaleidoscope of skin tones.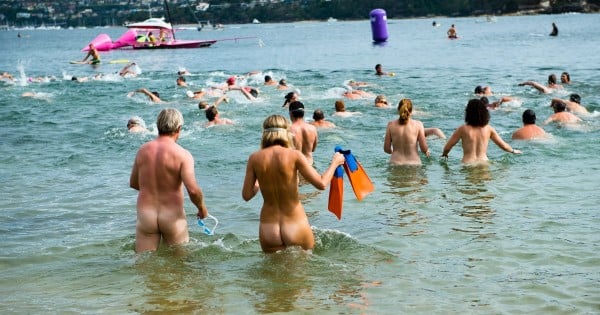 This visual caught me off guard – I began to really laugh hard. Underwater. I was struck by a moment of the sheer joy of life. A fit of laughter underwater is a bit like choking. My new psychological aim became 'do not drown'. I'd almost recovered when a different vision crossed my mind – my body strewn on the beach, starkers. The huge slobbering lips of a fully-uniformed ambo leaning over to administer mouth to mouth, while another concentrated (a little too) closely on thumping my exposed chest to resuscitate me. Then, this idea flashed up; my somber funeral, the priest navigating the eulogy like a gymnast for the straight-laced audience, skillfully dodging the enormous naked elephant in the room.
Thankfully, this was not my untimely end (swimmers choose from two courses – the gentle 300m nudie novice or 900m Sydney Skinny). I caught my breath, orientated myself to the buoys, ignored the hilarious mass of bobbling bottoms I was engulfed in and continued.
I emerged from the water elated on feeling alive. You can watch that moment here. Somewhere, some strokes ago, I left a lot of concerns about the shape of my body and how I appear to others. I felt really good in my own skin, just as I am. Nothing but beautiful. With everyone at this party in their birthday suits, it's such a genuine leveler. Under our many layers we're just flesh and bones with a heart, doing life however we know best.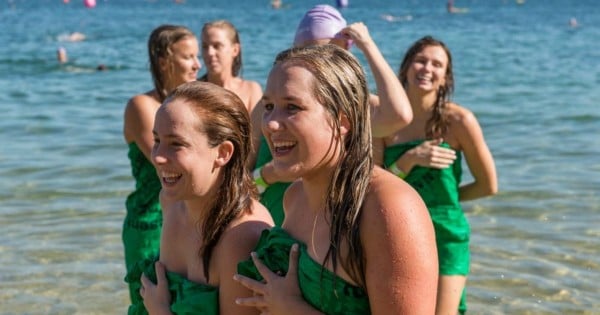 There is still time to join me in being nothing but beautiful.This all natural experience is cleverly sponsored by Nudie juice, how appropriate. The 'creators of good' are true to their cause and have created 'team nudie', a really good group of people who I'll be swimming with.
Warning! There are some criteria. The Sydney Skinny is $40 to enter and if you choose to take part in this psychological challenge of public nudity outside of the event this Sunday, 28 February at Cobblers Beach, the price does vary. Kings Cross Police says indecent exposure will set you back minimum $1,000 all the way to a jail term of up to six months, while SCG Cricket ground say streaking penalties start at five grand. At that price – The Sydney Skinny is a bargain.
So why not? This is one party you won't have to spent time picking your outfit. What are you waiting for? Entries are open at www.thesydneyskinny.com.au or you can enter with cash on the day.
Details: The Sydney Skinny Ocean Swim (900m) and nudie novice (300m) will be held on Sunday March 19 2017 at Cobblers Beach, Sydney Harbour National Park. Registration starts at 8am, with the first swim wave at 9am and the final swim wave at 12.30pm. Cost is $45 per person. You can register online at www.thesydneyskinny.com.au