Did you notice The Secret Daughter opened with a forbidden storytelling trick?
We're introduced to protagonist Billie Carter, played by Jessica Mauboy, via her mirrored reflection, discovering her features for the first time as she examines herself through critical eyes.
Anyone who's ever penned a script, novel or TV treatment and has dipped a toe in the research pool knows this is a tired trope that's best avoided at all costs.
However, this one small opening scene ably sets up the entire premise of The Secret Daughter.
This is because what we see with our naked, TV-watching eyes might not scale the heights of impressive, but once you know the back story behind the image it takes on a whole new meaning of importance.
Once you become aware this is the first time a commercial network, Australian or otherwise, has put an Indigenous face in the lead of a drama series, a played-out introduction becomes revolutionary.
The Secret Daughter centres around Billie, a country pub singer/bakery worker.
While tangling with the town's local criminal element (a plot point that has a very nostalgic Blue Heelers feel to hit) Billie meets Jack Norton (played by the excellent Colin Friels).
Who we learn is a wealthy hotelier from Sydney who has arrived in town seeking his long lost daughter. And in an effort to keep herself and her father safe, Billie plays right into the ruse.
However, the casting of an Indigenous actress is not the only way they've made the character of Billie a standout.
If you're an Australian woman keen on watching a bit of homegrown comedy and drama, then you've probably been existing on a steady diet of Offspring's Nina and The Wrong Girl's Lily.
Blonde, white, conventionally beautiful women, blessed with education and comfortable inner city lifestyle. Prone to neurotic verbal outbursts, particularly around handsome men, and adorably clumsy when a kick of damsel-in-distress mode is called for.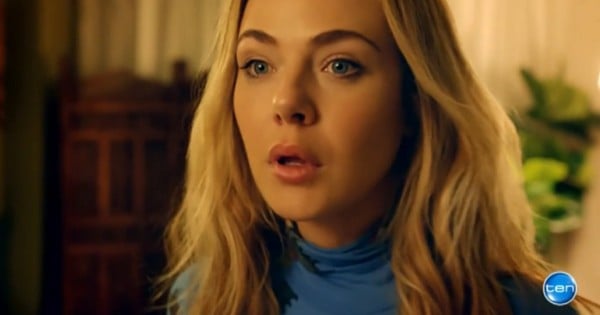 That's not to say either of these characters don't deserve a place in our hearts, because they certainly do. All I'm saying is that in a world filled with Ninas and Lilys, it's about time we had a Billie.
Jessica Mauboy plays her to perfection as a mixture of tough and vulnerable, there's no stuttering around her male counterparts and we never once hear her lament her figure, looks or romantic life.
Billie has bigger problems to deal with.
Listen to Laura Brodnik and Jessie Stephens discuss the craziest moments of Australian TV this week on The Binge.
Another look behind the camera reveals the episode was directed by Leah Purcell, who, in addition to being a Helpmann Award and AACTA Award winner, is also an Indigenous Australian actress, director and writer.
That's not a CV we've come to recognise on mainstream commercial television, but in the context of The Secret Daughter, it ups the storytelling cred to a new level.
When it comes to breaking new ground, The Secret Daughter is not doing that through its storytelling. But if you take a step behind-the-scenes, it's a brave new world that Australia desperately needs.
And that's worth the watch.
The Secret Daughter airs on Channel Seven at 9pm on Monday nights. If you miss an episode, you can catch up on PLUS7. 
You can also follow Mamamia Entertainment and Pop Culture Editor Laura Brodnik on Facebook .