Cassie Jaye used to be feminist, a proud one, a vocal one. But after producing and directing a film about men's rights activism called The Red Pill, she claims she realised she was no longer comfortable with the concept.
The US documentary – which offers an alternative perspective on male privilege by exploring suicide rates, sexual assault and custody issues – has earned unprecedented backlash here in Australia, with a number of cinemas around the country cancelling screenings.
But Jaye can't understand why.
During an interview on The Project this evening, the filmmaker said she is "curious what is different about Australia that makes this topic so polarising and so fearful."
By way of an explanation, panel host Carrie Bickmore raised the fact that "domestic violence is really on the agenda" here – largely thanks to the advocacy work of Rosie Batty, whose son was publicly murdered by his own father in 2014.
"We're really trying to move forward and get on a path where women aren't dying. I think that is why your film has hit a nerve," Bickmore said.
"It was her son that passed?" Jaye responded. "I didn't know about that, but that is interesting because it shows there are male victims of domestic violence."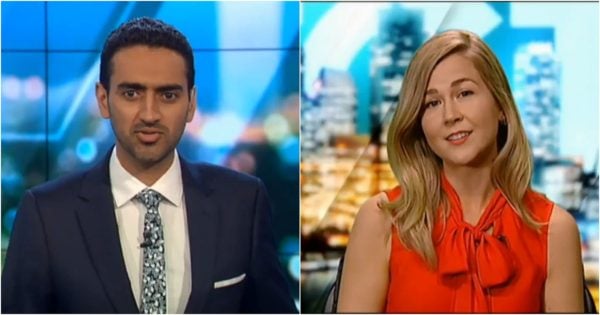 Jaye's comment left the panel in stunned silence for a moment, before Waleed Aly spoke up.
"Sorry, that's the lesson you took from that?" he said.
"The point I think a lot of people take from that is that the violence was perpetrated by a man in that situation, as it overwhelmingly is, particularly in cases where there's a fatality."
But Jaye stuck to her guns.
"This is a very touchy subject that does, you know, quickly offend people so I'll use my words wisely," she said.
"Where I have come to today after four years of working on The Red Pill is we have to distinguish between victims and perpetrators or criminals ore evil people in the world because, you know, a boy who is being abused by a parental figure, that is a boy that deserves care and compassion and resources if he needs to find help."
The Red Pill, which claims to go "down the rabbit hole of gender equality", has been attacked by critics as "uncritical" and "propagandist".
Listen: Sarah Ferguson and Andrew a former abuser talk about Domestic Violence in Australia. Post continues below.

In January, Queensland Police were forced to investigate alleged death threats issued to the Men's Rights Brisbane group ahead of a screening of the film.
"When I started to make a film on the men's rights movement I never considered questioning my feminist views. Maybe it's right now that the tides are changing and women have the better deal."