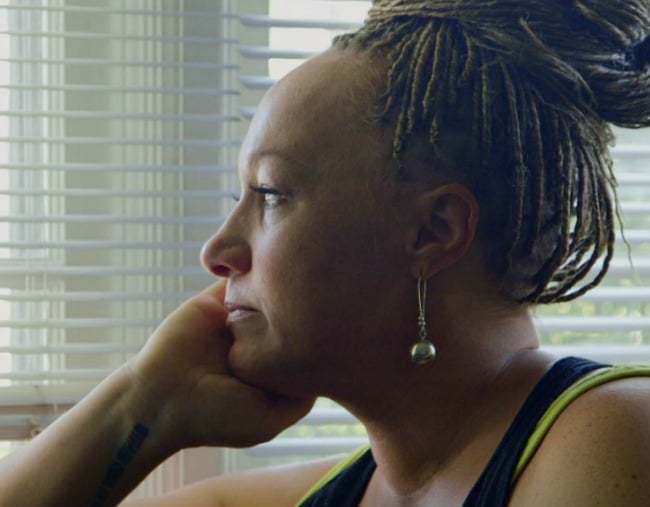 In 2015, everyone was talking about Rachel Dolezal.
Dolezal was the president of the National Association for the Advancement of Colored People (NAACP) chapter in Spokane, Washington.
She was also an instructor in Africana studies at Eastern Washington University.
Dolezal had two African American sons – one biological and one adopted.
She also happened to be white.
Dolezal became the centre of a media storm when it was discovered she was actually the biological daughter of European American parents.
Her ruse opened up debate about racial identity, fraud, cultural appropriation, and trans issues.
The Rachel Divide is dividing viewers. Post continues. 
Her critics said she had committed cultural appropriation and had acted fraudulently, while her supporters said race didn't need to be based on biology.
Dolezal was roundly slammed for misleading the African American community and she was dismissed from her roles with both the NAACP and Eastern Washington University.
Since then Dolezal has written a book called In Full Color, in which she defended her claim that she's African American and compared her own experiences to slavery.
She's also given birth to her third son and officially changed her name to Nkechi Amare Diallo.
Now a new Netflix documentary, The Rachel Divide, is taking a deeper look into Dolezal's past and the events that led her to claim a racial identity that wasn't her own.
The documentary follows Dolezal in the months after the scandal broke. It paints a picture of a very troubled woman who still can't see the error of her ways.
From her early childhood with her abusive religious parents, to her adolescence when those parents adopted four African American children, to her early twenties when she began to take on her new identity, all the way to the broken woman she is today.
As the title suggests the documentary has only served to further divide viewers.
While some have come away with a better understanding of and more empathy towards Dolezal, many are angry that she's still claiming a racial identity that doesn't belong to her.
Thought the #TheRachelDivide was an intriguing doc, but I really wish they had interviewed some therapists/psychologists bc it seems like her "identifying as black" was not a belief so much as a coping mechanism as a result of her traumatic childhood. Her white bio fam was awful,

— Brynna Ruth (@BrynnaRuth) April 28, 2018
I watched #TheRachelDivide

I want to apologize to Rachel. After getting all the facts, she should be allowed to be whoever she wants to be.

If Bruce can turn to Caitlyn.
If folks can change their sexual orientation. There isn't a reason Rachel can't identify as black.

— Denicio (@DenicioShoots) April 28, 2018
#TheRachelDivide I am still unsure how I feel about this situation. One thing the documentary does is humanize Rachel. Her history is tragic. Regardless of what people think about her, Rachel is a human being who has the right to rebuild, earn a living, and raise her family.

— Stephanie T (@StefmswT) April 27, 2018
What makes her and her story so infuriating is her blind spots. Typically when a person is this ignorant re: white privilege, they're universally ignorant about white privilege, but she seems to understand every aspect of it except the part where she has it. #TheRachelDivide

— Philbert Noyce (@ADubiousPronoun) April 27, 2018
I'll believe in people being transracial when a dark skinned black person can transition, pass, live and be accepted as white. #TheRachelDivide

— Helluva Bottom Carter (@nicju) May 1, 2018
I just watched a very disturbed, privileged white person exploit her kids, take no accountability & basically do book promo #TheRachelDivide

— Maddi (@MaddiMaie) April 29, 2018
Rachel doesn't have to change a damn thing about how she acts, eats, or dresses. She just has to admit she's white and people will leave her alone #TheRachelDivide

— Dunder Mifflin HBCU Recruiter (@_CoolStoryCori_) April 27, 2018
Watched #TheRachelDivide last night…. Sooo much to unpack and not in a good way. If I had to sum it up right this moment I'd say it was literally watching white privilege in action, unfolding before my eyes. I may have more to say on this later, lots more to process abt it.

— Apogee McGee (@hume_g) April 28, 2018
I am 10 minutes from the end of #TheRachelDivide and my biggest take away? Her lies have ended up harming the black community of Spokane she claims to care for and the black family members she claims to love the most and she can't see it or just doesn't care.

— Na'amen Gobert Tilahun (@Naamenism) April 30, 2018
Just finished #TheRachelDivide on Netflix. I feel so bad for her son, Franklin. #RachelDolezal is doing exactly what she claims her parents did to her. She's creating this toxic environment, so she can be the "savior." It's classic phycological and emotional abuse.

— Stephanie Sidley (@StephanieSidley) April 30, 2018
Just finished watching #TheRachelDivide @RachelADolezal is clearly a deeply disturbed person who struggles with her own identity. But using that as a means to appropriate black culture is not okay. What a deeply disturbed person.

— Ashley Nicole Lemire (@sh0sh0c4t) April 28, 2018
I'm honestly fascinated by Rachel Dolezal.

But hurt that she has tried to reduce Black womanhood to tanning spray and kanekalon extensions. #TheRachelDivide

— Laila McCloud (@FrontRowMama) April 30, 2018
The Rachel Divide is streaming on Netflix now.