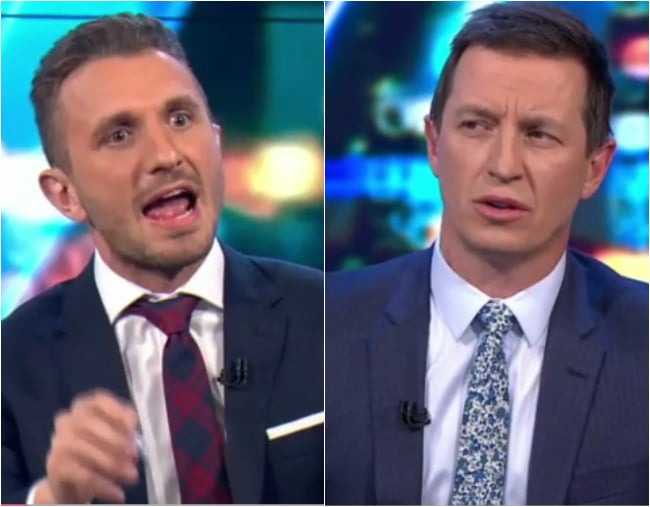 The Project has repeatedly spoken out against bullying, slamming those who pick on or intimidate others. But after Monday night's episode of the Channel 10 program, its own hosts are being accused of precisely that.
Several viewers of the current affairs show have expressed their anger via social media following an exchange between panellists Tommy Little and Rove McManus in which they mocked the voice of mining CEO Geoff Summers.
Showing an image of the Avebury boss speaking at a press conference in Tasmania, Little said, "First, I want you to have a look at him, right. Here's a picture. He's tough, I reckon he looks rich, he looks mean and he's a miner; that's the information we know about."
"He's a man's man talking about the mines," guest panellist Rove McManus said, putting on a deep voice.
"So see if this is how you were expecting him to sound," Little added.
After the footage played, Little quipped that Summers "sounds like the first mining minor".
"Hey, question," McManus said, "Were they mining for helium?"
While the panel and the studio audience all laughed at the exchange, not everyone found it particularly funny. A number of viewers accused McManus and Little of cruelty and the program of double standards.
#TheProjectTV I just don't think it's funny to pick on someone's voice. Not funny at all. That's just mean.

— tanyagiggles (@tanyadashwood) July 9, 2018
Was thinking the same thing @dzennon. Just love the double standards these days. So it's Ok to ridicule and publicly humiliate someone based on the masculinity of their voice @theprojecttv #TheProjectTV https://t.co/5P7vBTt2Ql

— Jamie (@JamieCollins) July 9, 2018
The only way people will learn is to switch channels. Don't preach not to bully & then do it. Ratings dive, and maybe you'll learn bullying hurts and the fact you've done it for the world to see, shame on Channel 10. Don't pair Tommy and Rove again on same panel. #TheProjectTV

— Kathee (@Kathee001) July 9, 2018
So you are all against bullying …. until it suits you & your cheap laughs #TheProjectTV

— mark sinnott (@marksinnott6) July 9, 2018
Hmmm the project and double standards. Shannon Noll is a naughty boy, then taking the piss of a miner with a weird voice.

— David Cutting (@DaveC_74) July 9, 2018
Several of The Project's Facebook followers called for the program to issue an apology to Summers, calling out the show's "disgusting double standards".
"Poking fun of that miner mans voice is wrong. His voice is unique and original and not boring," one wrote. "You owe him an apology. I thought you guys were all about embracing people's differences yet here you are laughing at a man who has higher vocal cords."
"How does this type of cheap shot, show who you are as a person! How will this type of underlying mockery of a person, be translated to teenagers who are being bullied, mocked at school?" wrote another. "I'm mortified that you find that funny. Ex Project viewer."
And another: "Disappointed. For a program that often speaks out against ridicule and belittling it was disappointing that you chose to ridicule and belittle the miner on the basis that his voice didn't live up to your expectation."
The Project panellist Lisa Wilkinson has previously used the program to speak out against bullying. The popular journalist opened up about her own high-school experience ahead of the National Day of Action Against Bullying and Violence on March 16.
"I didn't tell my parents. I felt so humiliated and so small as a result of it, that I thought that [it would be best] if I keep it as much as I can to myself. Even though sometimes half the school would be surrounding me because the toughest girl in the school wanted to fight me," the 58-year-old told her co-hosts in February.
"It was the most awful, humiliating moment that I've ever experienced in my entire life."
Mamamia has contacted Channel 10 for comment regarding Monday night's segment.