You know what we need? More reality TV shows.
Just kidding. There's a few out there already. But now with Masterchef all over for another year (well, probably for another two weeks, at least), we have a prime-time-reality-cooking-shaped hole in our schedules.
Channel Nine's got our backs, guys. The new series of The Hotplate starts tonight.
The Hotplate is like My Kitchen Rules meets your favourite local restaurant. "Unsung local restaurant heroes from around the country will do battle over dinner in order to win a  $100,000 prize and realise their food dream", says Channel Nine.
Whether or not they are unsung heroes is yet to be decided, but they are definitely local restaurateurs. Tonight's episode takes us to Christina's, an Italian restaurant in WA run by Christina (who'd have guessed?) and her daughter Tania.
Think loud. Think brash. Think lots and lots of leopard print.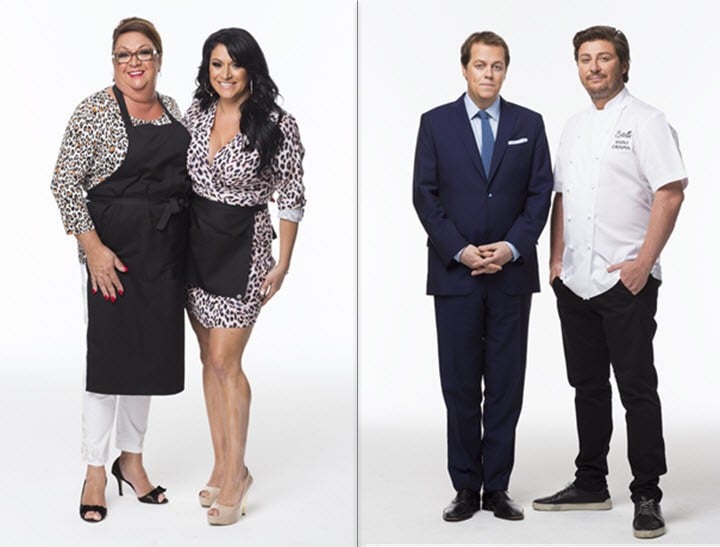 The other teams – including WA's Conrad and Liam, the token gay couple (one of whom immediately establishes himself as the village bitch), Lozz and Nols, a sweet country bumpkin duo from VIC, and Emi and Marie, best friends/Japanese wizard chefs – will eat a meal at Christina's restaurant, judging the Leopard Print Ladies on their culinary skills and their restaurant experience, right down to the paper napkins.
Read more: Reality TV shows we would welcome back. Man, Oh, Man.
They will be accompanied by two judges, a Posh one and an Aussie one. Posh is Tom Parker Bowles, who is THE SON OF CAMILLA, PEOPLE. Apparently, when he isn't hanging with his royal step-family, he is a UK food writer and critic. The Aussie one is Melbourne restaurateur Scott Pickett, who, although you may not have heard of him much, is really, really good at the cooking. (He has all of the awards. All of them.)