The Handmaid's Tale has long been a celebrated piece of fiction – it hasn't been out of print since it was first published in 1985 – but it's never been so frighteningly relatable until now.
Margaret Atwood's sinister novel tells the story of a dystopian society set in the former borders of the United States of America where all women's rights and legal automony have been stripped away.
Listen: Why The Handmaid's Tale is the most important TV show of 2017. 
The protagonist Offred, along with every other woman still able to bear children, is forced to become a Handmaid (a surrogate sex slave) for the wealthy families to bear them children.
Dressed in distinctive, conservative red capes and gloves and white vision obscurring bonnets, they have to lie between the husband and the wife while they have intercourse, all the while holding the wife's hand.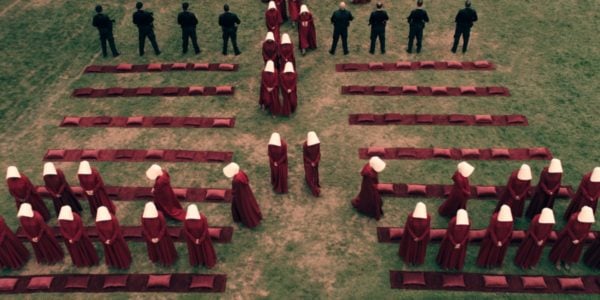 Offred and all the women like her are stripped of everything. Her child and husband are taken away from her and even her name and personality becomes entwined with her status - Of-fred literally denotes her possession by her master Fred.
If a world where women have no say or rights over what they can do with their own bodies sounds eerily familiar, you're not imagining it.
A Handmaid's Tale comes to life in the Senate Gallery. #FightBackTX pic.twitter.com/aLAOLRKH2j

— Whole Woman's Health (@WholeWomans) March 20, 2017