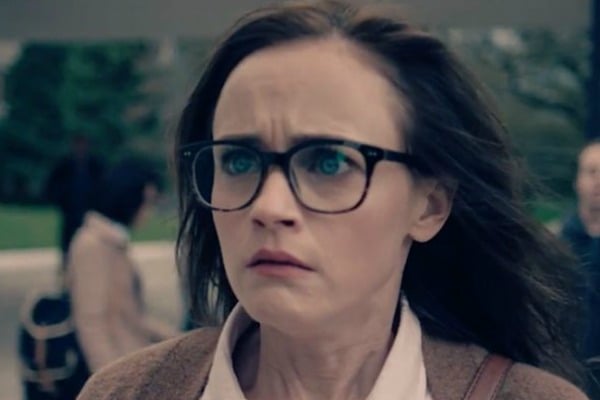 Warning: Spoilers for season 3 of The Handmaid's Tale ahead. If you're not caught up yet, bookmark this page and come back when you're ready!
Gather round.
We have another The Handmaid's Tale theory courtesy of Refinery29 to present to you and it's… pretty grim.
It involves Emily's freedom in Canada and how it may be (devastatingly) fleeting.
Watch the official trailer for season 3 below. Post continues after video.
While we suspect we're a long way off seeing June finally flee Gilead, watching Emily trudge through the woods to make it out, and into the arms of her wife Sylvia and son Oliver, stands as a beacon of hope we've been clinging to for the entire season.
But – as The Handmaid's Tale so often succeeds in doing – a new theory suggests that beacon, which has become more of a dim glimmer, may be thrown in mud and stepped on by an angry guardian.
Why? Emily could be tossed back to Gilead in a white bonnet, and she might be sent to the colonies or worse yet – the wall.
You see, in the latest episode of season 3, the former Harvard graduate microbiologist is under scrutiny for her involvement in Baby Nichole's rescue, or as Gilead sees it, kidnapping.