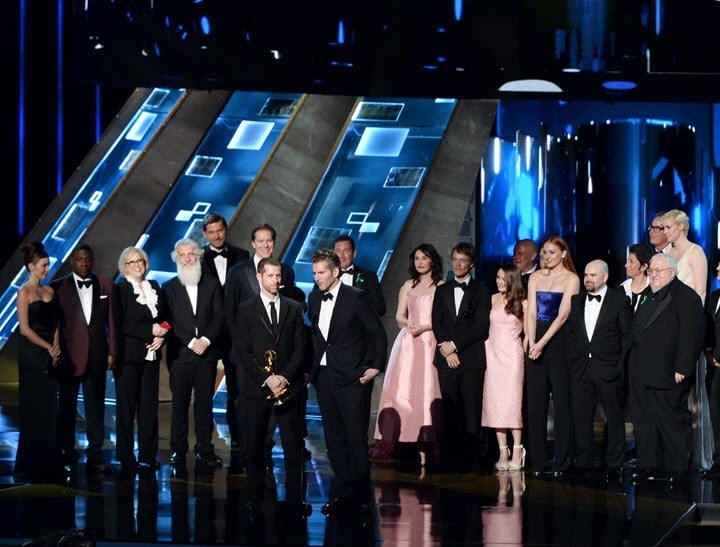 So The Emmys just happened.
The 67th Annual Primetime Emmys is the biggest night in TV, and it's done and dusted for 2015.
So what happened on this night of nights? Should we care about anything other than Heidi Klum's Big Bird dress?
We have the answers to all of those deep questions and more. Here are our top moments from this year's Emmys.
1. Viola Davis's acceptance speech for her Best Actress in a Drama gong for How To Get Away With Murder.
Viola Davis made history as the first black woman to win the Emmy for Best Actress in a Drama.
"In my dreams and visions, I seemed to see a line, and on the other side of that line were green fields, and lovely flowers, and beautiful white ladies, who stretched out their arms to me over the line, but I couldn't reach them no-how," Davis said, quoting Harriet Tubman.
Watch the full speech here. 
2. Amy Schumer's win for Inside Amy Schumer.
This is the first year the category of Comedy Variety Show has existed. The other nominees were Drunk History, Portlandia, Saturday Night Live and Key & Peele, but Schumer was a shoo in.
She thanked everyone who's helped her along the way, including the make-up girl who gave her a great smoky eye. "I really like it," she said.
"We care so much about this show," said Schumer, who usually refrains from showing genuine emotion.
Watch Amy Schumer's speech, below.
"I almost made a stupid sex talk show that nobody wanted, and [head writer Jessi Klein] got drunk and told me that I had to follow my dreams and make my dream show."