Recently I was reading an article about survey results outlining the staggering number of retail workers that are verbally and physically abused whilst at work.
After making the decision to leave a stable career in order to return to study this year, I now work in retail (again), so sadly this did not shock me.
Over the years I have had more than my fair share of dirty looks, angry tirades and general nonsensical interactions with customers.
I have also been kicked, poked and had my hair pulled. Granted children did this, but they are still considered customers.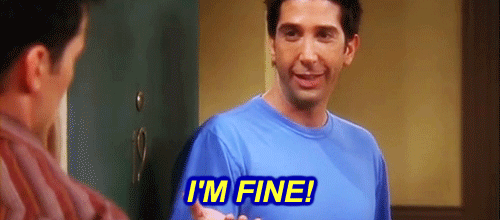 Never been better. Image via Giphy.
If I'm totally honest though this stuff doesn't really bother me because majority of the time the fact that I am patient and friendly (no matter how badly I don't want to be) means that I can turn around or successfully manage most situations.
The bigger issue for me, is the disgusting downright GROSS things that customers do or allow their children to do.
Over the years I have had the *great pleasure* of dealing with or being loosely associated with too many poo, wee and vomit related incidents.
Here are my top four.
1. Your window display looks poo-fect.
Anyone who has worked in retail understands the importance of shop windows.
They lure a customer inside. Display your latest products. Highlight any promotions and special offers.
The visual merchandising team sends countless emails explaining exactly how the window should look and after deciding to erect said window during a quiet period which suddenly becomes busy, battling with posters that are double your size and squeezing your adult body into a space designed for someone far more child like than you, the window is finished.