Can a painting be haunted by the spirit of a small boy? Can its evil powers cause houses to burn down around it?
Well, probably not.
But back in the 1980s, a huge number of Brits believed it. Terrified that a rather tacky painting known as The Crying Boy was cursed, they ripped it off the walls of their homes. Thousands of the paintings were destroyed in a mass bonfire.
So how did rumours about The Crying Boy start?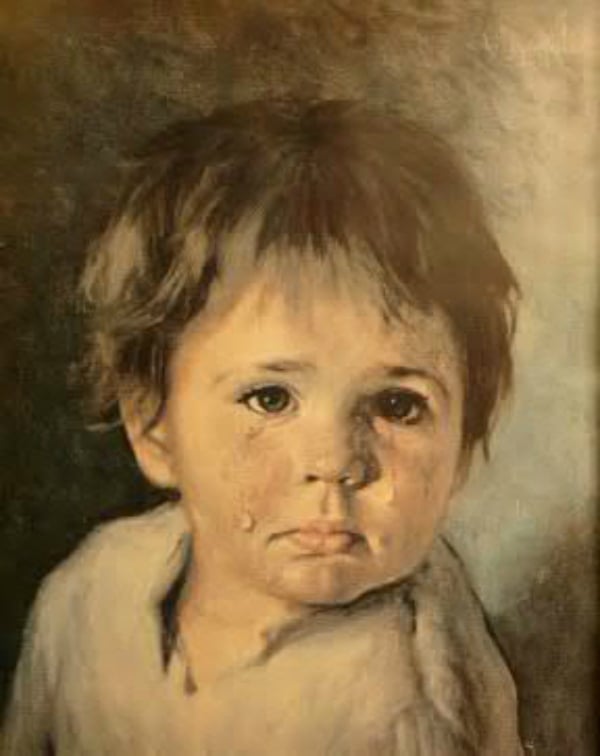 The painting, along with other similar ones of children crying, was done by an Italian artist, Bruno Amadio, under the name Giovanni Bragolin. The prints were mass-produced and widely sold throughout the UK.
On September 4, 1985, British tabloid newspaper The Sun published a story about a couple, Ron and May Hall, whose house had burnt down due to a fire which started in a chip pan. The painting of The Crying Boy remained untouched, while all around it was charred ruins. The couple blamed the fire on the painting.
A fire station officer, Alan Wilkinson, said he knew of numerous other cases where this same painting was the only object in a house to survive a fire unscathed. A photo accompanying the story showed The Crying Boy, and the caption read, "Tears for fears… the portrait that firemen claim is cursed."
No firemen had actually used the word "cursed", but a legend was born.
Listen: Even more terrifying than a painting is John Jarratt's character is Wolf Creek. (Post continues.)

The next day, The Sun ran a follow-up, saying they'd been flooded by calls from "horrified readers".
Dora Mann said her house burnt down just six months after she bought the painting. "All my paintings were destroyed – except the one of the crying boy."