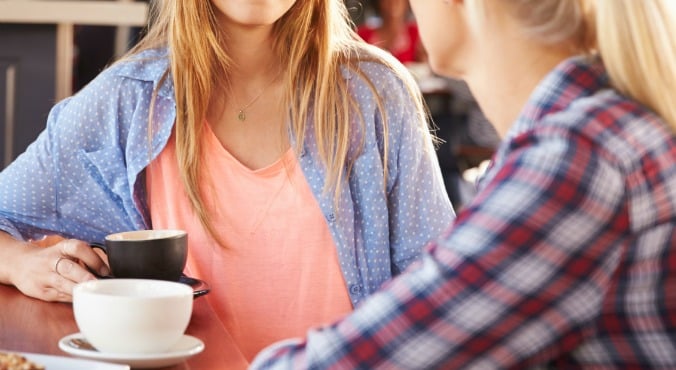 Image: iStock.
Lately, I've been wondering something that I'm almost too embarrassed to think about, let alone write about: Am I the less-than-sparkly friend, appearance-wise, in my group?
It's not like me to worry about my appearance. I'm actually very secure and confident in the way I look most of the time. But lately, a few things have happened which have rattled my confidence, and I'm not sure if I'm over-exaggerating or not.
It all started a few weeks ago when I was having a lunch with my friend Maree. There was a very attentive waiter, who kept checking to make sure that we were happy with our meals.
After we had both paid, the waiter smiled from behind the cash register and said to Maree, "I'm sorry but I have to say this, you are very beautiful."
It's true, and it was one of the first things that I noticed about Maree when I met her. I smiled, because I was proud of her. I mean, there are other things I admire about her, such as her tenacity and kindness – but I can appreciate the way she looks.
I waited for the waiter to compliment me, but it seemed like he'd forgotten that I was there.
"What's your background?" he asked Maree, his eyes fixed on her.
"Uh, I don't know…" she replied looking embarrassed.
"But your hair, it's so black and shiny," he enthused.
Maree started to look uncomfortable and I kept waiting for questions about my heritage, but they never came.
As the conversation between Maree and the waiter progressed, I tried to keep a smile on my face, I really did, but inside there was a horrible feeling that was bubbling.
"You don't need to worry about me," the waiter told Maree. "I'm a married man. But I just wanted to let you know that you're extremely beautiful."
Sure, his comments were a bit creepy, but either way I was jealous of the attention and adulation that Maree received from him. Suddenly, I felt like a bore. Suddenly she seemed more interesting, more desirable and more valuable.
Both Maree and I left the café with smiles on our faces, but hers was the only genuine grin. I couldn't stop thinking about what the waiter had said about her looks.
Yes, I knew how incredibly pathetic my feelings were - how could I think in such a shallow way? How could I tie up so much of my worth in my looks and over one small comment?