Home renovation reality show The Block is being accused of racism after airing a scene where contestant Kim appears to mock Aboriginal culture.
Kim is a school teacher from Newcastle who is competing on the show alongside her detective husband Chris.
The 32-year-old has come under fire in the wake of Sunday night's episode, in which she painted markings onto her face and said to the camera, "I'm from the tired tribe of apartment five."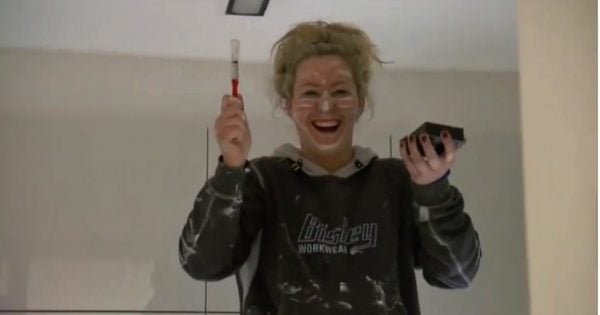 The moment was initially captured and shared on social media by one viewer who said the scene had upset her mother — and others have since shared their dismay on Twitter.
Nayuka Gorrie said the moment was distressing not just because of its content, but because the contestant involved works with children when she's not on the reality show.
"I don't watch The Block but my black Mum does. She texted me last night VERY upset at the actions of one the participants Kim," she wrote.
"Kim works with young people. The show airs to a lot of people. I don't know what is worse."
Other viewers have used the comment section of Gorrie's post to share their disappointment.
"Disgusting. Both that she did it in the first place and then that it was deemed okay to broadcast. Have been getting increasingly furious all day," one user wrote.
Another user shared how it was her young child who noticed the alleged racist undertones of the incident.
"My 10-year-old son was watching this episode and looked at me and said, 'Mum, isn't that racist?' It's a disgrace not only that a teacher behaved this way, but also that is was edited into the episode by the production team," they said.