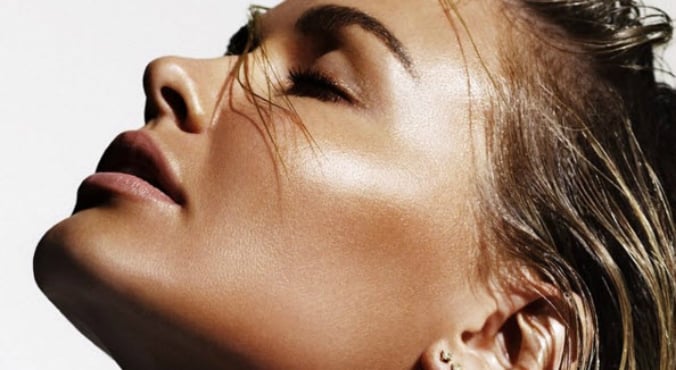 Image: Instagram/@thebasebylb
We've heard plenty about Lara Worthington (nee Bingle)'s tanning range, The Base. Heck, we've even interviewed her about it.
But here's the big question: is it any good?
Lara has the beauty and fashion world at her feet; of course she can swan around all day with a perfect golden tan. For us regular folk playing at home, achieving a non-orange glow while also smelling like "a donut" (her words, not mine) is not always straightforward — so we put The Base to the test.
Products and prices
The Base is an extensive range, which is only available for purchase online.
There's the signature Instant Tan Mousse and Gradual Tanning Lotion (both $29), and a few other products to help you achieve a summery glow: the Body Glow Oil ($39), LB Cream (Lara's version of a BB cream, $24), Skin Illuminator in Matte Bronze or Shimmer ($24) and the Tanning Application Mitt ($12). You can buy the entire range in a package deal for $160.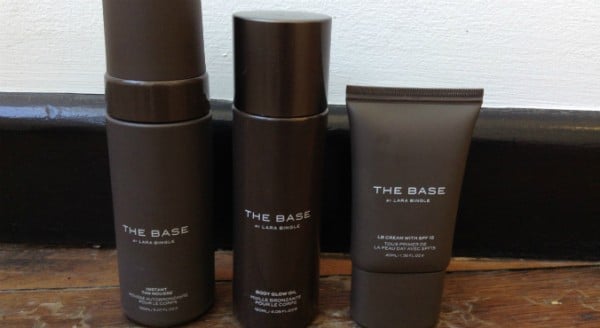 Packaging
Look, let's be real: you should probably at least like Lara Worthington before you purchase this range because her face is all over the packaging. When I had her products all lined up on my desk I felt like she was watching me — but I like Lara and her face, so it was all okay.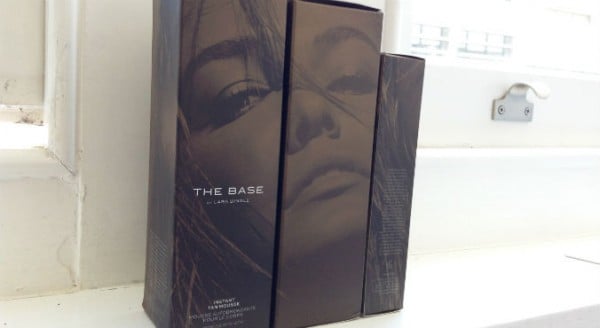 The Base products are encased in chic containers in a dark taupe colour, and they look elegant and luxurious on a bathroom counter — just the way I like it.
Do you have a short bob like Lara's? These styling tips should help. (Post continues after video.)
The verdict
Tanning products
The Base Instant Tan Mousse delivered a warm, golden, in no way orange glow in hour hours. It was also easy to apply, streak-free... and yes, it truly smelled like donuts. Lara Worthington, you've got yourself a winner — and a fan for life. Seriously, I am already hanging out to apply this stuff all over my face and body again, and I usually hate applying fake tan. The tan stayed deep and vibrant for about seven days.
I applied the Instant Tan Mousse using the Tanning Application Mitt, which was soft and spread the product around nicely. I also used my hands for some of it and guess what? I only rinsed them quickly but they didn't turn a shameful orange later. Hurrah!
I tried the Gradual Tanning Lotion once, which is definitely not adequate to build a deep colour. If you like gradual tanners I'd give it a go as it created a pretty golden result. I also liked how the cream was on the thinner side, as thick and creamy gradual tanners make my skin feel like it's suffocating. (Post continues after gallery.)
Lara Worthington on Instagram
Body Glow Oil
The Base Body Glow Oil was a delight. It poured out as a glimmering bronze-coloured oil that smelled like a donut on holiday, as it's all cinnamon-y with hints of coconut. It leaves a very subtle sheen on the body, so you will just look glamorous, rather than like a slippery-shiny bodybuilder.
It also actually, truly moisturised my skin. My favourite thing, though, was that it dried so it was non-greasy. I've put every sort of oil on my body — coconut, olive, baby, rosehip, you name it — and at some point I will either slip over or leave greasy marks on something. That didn't happen with this product. Me, uninjured after trialling a new beauty product? Amazing!
LB Cream and Skin Illuminator Shimmer
This review is getting gushy, but I can't help it. I really loved all of the products. The LB Cream was a particular favourite. It felt like a very moisturising foundation as it was thick and creamy. It gave flawless coverage while still keeping my skin looking fresh. I used the "Honey" shade.
Ever wonder how Lara Worthington gets that sheer bronzey glow on her cheeks? The Skin Illuminator Shimmer is the secret. It's a cream that's easy to apply and build, and you can put it anywhere on your face or body that needs a highlighting boost.
Both the LB Cream and Skin Illuminator Shimmer had the texture and staying power of a high-end, luxury beauty product. If I did a blind test of The Base face products and someone told me that they were by Giorgio Armani, I'd have said, "Yep, that makes sense. Now give it to me for free, please."
Clearly, I've been completely won over by The Base. It's unusual to find a beauty range in which every product is high-quality and gorgeous, so I recommend you head on down to the website — because as Lara once said, "Where the bloody hell are you?"
Have you tried The Base? What's your favourite self-tanning product?