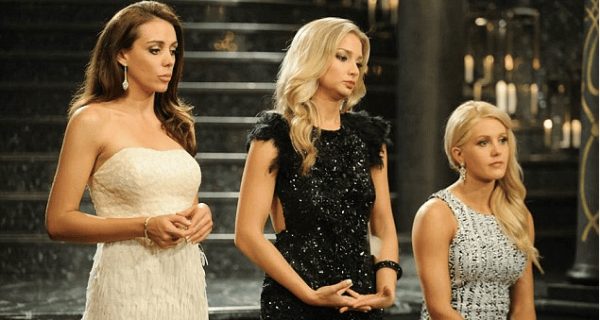 Nikki. Alex. Olena. Who will win Richie's heart (and hopefully some expensive form of bling) when The Bachelor wraps up this week?
Monique Friedlander, reckons she has a clear idea. The writer has put all other Bachie fans to shame with her eagle-eyed theory about who will win.
Apparently she's cracked the "winner" code and it's all down to what the final three wear to the rose ceremony.
According to Monique, in all past three Bachelor finales, the three remaining girls are split – two girls wearing one similar colour, one girl wearing another that's distinctly different.
Once the first finalist is eliminated, it has traditionally left two finalists in two different colours.
Listen: Our favourite hero-villain hybrid Keira joined us on Bach Chat this week. Post continues below. 
Lost? Yeah, so were we. But it actually makes a lot of sense.
Write this down: